The I-7540D series are  CAN to Ethernet converters, and are usually applied as an Ethernet to CAN/RS-232/485 Device Server. They support socket access functions and virtual COM port technology which helps users to get the CAN, RS-232, RS-485 data via virtual COM port. The I-7540D series also provide transparent mode, which enables CAN networks to be coupled together over the Internet/Ethernet, whereby remote monitoring and control is possible. By the features of tiny operating system, protocol independence, small casing and flexibility, it is able to widely fit various RS-232, RS-485 and CAN applications, which may be based on private RS-232 protocol, private CAN protocol, Modbus protocol, CANopen protocol, DeviceNet protocol or J1939 protocol.
Description
Applications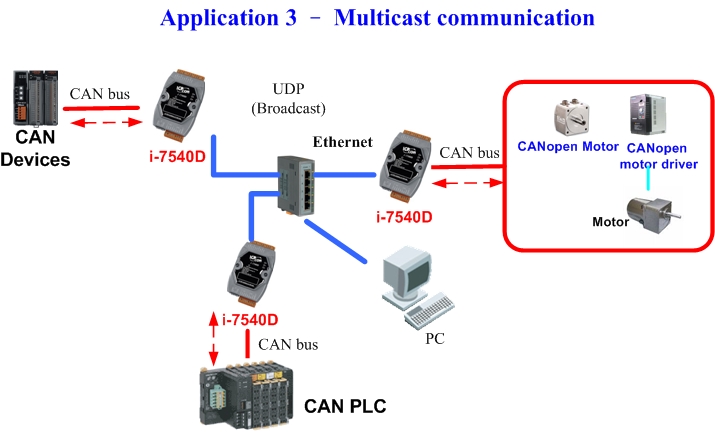 Features
80186-80 Embedded CPU, or compatible
Ethernet Protocols, TCP,UDP,IP,ICMP,ARP
10/100 Base-TX Ethernet Controller
Reloadable Operating Software
Message transmitted by using TCP/IP protocol
COM driver support interrupt & 1K QUEUE Input & Output buffer
Support one RS-232 port, one RS-485 port and one CAN port
2500Vrms photo-isolation protection on CAN side.
Jumper select 120Ω terminal resistor for CAN channel
Phillip 82C 250/251CAN Transceiver
Support both CAN specification 2.0A and 2.0B.
Max transmission speed up to 1M bps for CAN and 115.2kbps for RS-232 & RS-485
Max transmission distance of CAN over 1000m (follow CAN specification)
Built-in self-tuner ASIC controller on RS-485 port
7-segment LED display.
Software configurable CAN and RS-232 communication parameters
Firmware updated from COM1 or Ethernet port
Support Web Configuration
Support maximum 25 Ethernet clients connection
Support for Virtual COM technology
Data Process
| | |
| --- | --- |
| The VxComm technology can be used to simulate COM/CAN ports of the I-7540D to become a COM port of PC . With the help of VxComm driver, users can access the remote COM/CAN ports of the I-7540 just as them would access the PC's COM port. The block diagram of data processes in I-7540D is given as follows: | |
Utility
IP 、 Gateway 、 Mask configuration

CAN bus Baud rate configuration

CAN BTR0 and BTR1 configuration

CAN acceptance filter configuration

CAN 2.0A or 2.0B specific selection

Error code Responded selection

Easy test to transmit/receive CAN messages
Hardware Specifications
Model Name
I-7540D
I-7540DM

Hardware

EEPROM

16 KB; Data retention: 40 years; 1,000,000 erase/write cycles

CAN Interface

Controller

NXP SJA1000T with 16 MHz clock

Transceiver

NXP 82C250/NXP TJA1042

Channel number

1

Connector

2-pin screwed terminal block (CAN_L, CAN_H)

Baud Rate (bps)

10 k, 20 k, 50 k, 125 k, 250 k, 500 k, 800 k, 1 M (allow user-defined baud rate)

Isolation

1000 V

DC

 for DC-to-DC, 2500 Vrms for photo-couple

Terminal Resistor

Jumper for 120 Ω terminal resistor

Specification

ISO-11898-2, CAN 2.0A and CAN 2.0B

UART Interface

COM 1

RS-232

COM 1 Connector

5-pin screwed terminal block (TxD, RxD, RTS, CTS, GND )

COM 2

RS-485 (Self-turner inside)

COM 2 Connector

2-pin screwed terminal block (DATA+, DATA-)

Baud Rate (bps)

110, 150, 300, 600, 1200, 2400, 4800, 9600, 19200, 38400, 57600, 115200

Data bit

7, 8

Stop bit

1

Parity

None, Even, Odd

Ethernet Interface

Controller

10/100Base-TX Ethernet Controller (Auto-negotiating, Auto_MDIX)

Connector

RJ-45 with LED indicator

Power

Power supply

Unregulated +10 ~ +30 V

DC

Protection

Power reverse polarity protection, Over-voltage brown-out protection

Power Consumption

2.5 W

Mechanism

Installation

DIN-Rail

Wall Mount

Dimensions(W x L x H)

72mm x 122mm x 33mm

102mm x 125mm x 28mm

Environment

Operating Temp.

-25 ~ 75 ℃

Storage Temp.

-30 ~ 80 ℃

Humidity

10 ~ 90% RH, non-condensing
Hardware Structure
Wire Connection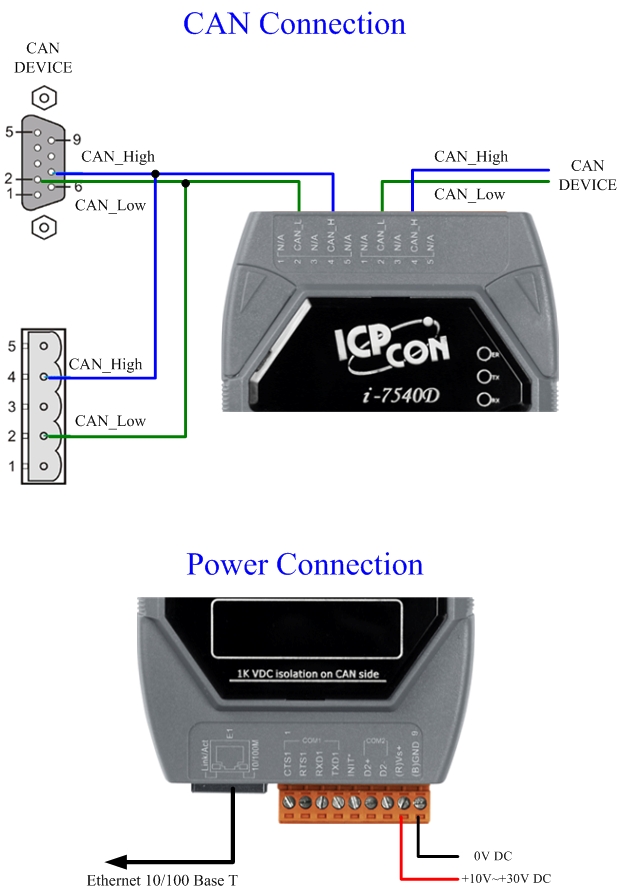 Pin Assignment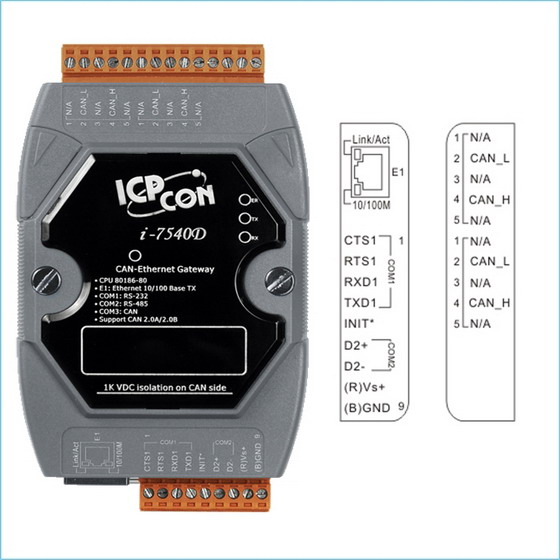 Performance Test
This test is the performance which transfer 8 bytes data frame(total 100000 frames) from CAN to Ethernet (one TCP client).
CAN Spec.
Baud Rate 1000K
Baud Rate 800K
Baud Rate 500K
Baud Rate 250K
Baud Rate 125K
Baud Rate 50K
Baud Rate 20K
Baud Rate 10K
CAN2.0A
FPS(Avg.)
2244
2237
2106
1483
989
410
174
88
CAN2.0B
PFS(Avg.)
2227
2243
2114
1422
807
357
146
73
This test is the performance which transfer 8 bytes data frame(total 100000 frames ) from Ethernet to CAN (one TCP client).
CAN Spec.
Baud Rate 1000K
Baud Rate 800K
Baud Rate 500K
Baud Rate 250K
Baud Rate 125K
Baud Rate 50K
Baud Rate 20K
Baud Rate 10K
CAN2.0A
FPS(Avg.)
2047
1899
1606
1154
741
380
155
86
CAN2.0B
PFS(Avg.)
1852
1732
1446
1021
643
322
122
72
Ordering Informations
| | |
| --- | --- |
| I-7540D-G CR | Internet communication controller with one CAN bus, one RS-232, one RS-485 and one Ethernet (RoHS) |
| I-7540DM | Internet communication controller with one CAN bus, one RS-232, one RS-485 and one Ethernet (Metal casing) |