The I-7532 is a CAN bus bridge that can be used to integrate two CAN networks even they implement different CAN baud rate. Compared with the I-7531, the I-7532 offers more than 3 useful features. First, the transmission distance limitation of the CAN bus system on each side of the I-7532 is independent, which means the total CAN network distance can be extended. Second, when some errors (e.g. bit error) happened on one CAN port of the I-7532, the other CAN port of the I-7532 will not be affected and can still work correctly. Last, the baud rate and CAN message filter configuration of these two CAN ports on the I-7532 is able to be tuned following users' applications. These features mean that users can design their applications more flexible and efficient.
Description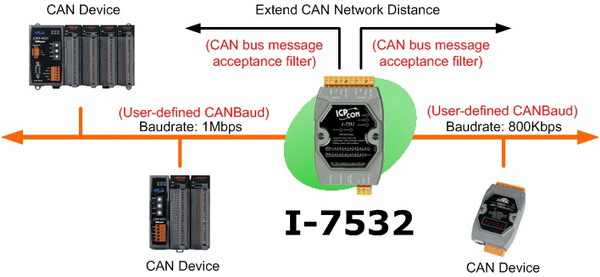 Applications
Distributed data acquisition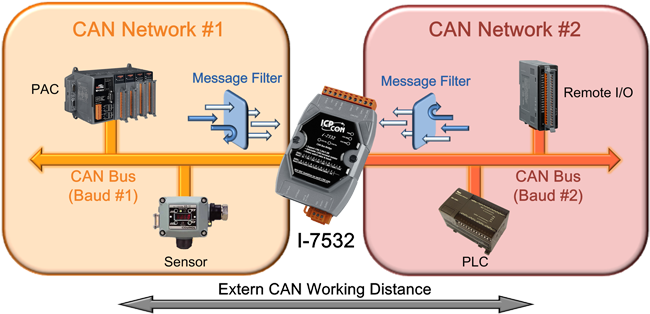 Features
82C250 CAN transceiver
2500 VRMS photo coupler isolation on the CAN side
3KV galvanic isolation among the power supply and 2 CAN channels
Support both CAN 2.0A and CAN 2.0B
Fully compatible with the ISO 11898-2 standard
Adjustable CAN bus baud rate from 5Kbps to 1Mbps or programmable user-defined baud rate
(For firmware v1.01 or newer) (NEW)
Support CAN bus message acceptance filter configuration
(For firmware v1.01 or newer) (NEW)
Provide I-7532 Utility for CAN bus message acceptance filter and user-defined CAN baud rate etc. configuration easily and quickly
(For firmware v1.01 or newer) (NEW)
Support firmware update via CAN1 of I-7532
(For firmware v1.02 or newer) (NEW)
CAN messages can be forwarded under another identifier
(For firmware v1.03 or newer) (NEW)
Built-in jumper to select 120Ω terminal resistor
Watchdog inside
Up to 100 CAN nodes on each channel
Transmission distance up to 1 km on each CAN port
Removable terminal block, Mount easily on DIN-rail
768 frame buffer for each CAN channel
The baud of each channel can be different for highly flexibility
Supports a range of baud rates from 10 kbps ~ 1 Mbps
Able to configure the CAN baud rate for each channel using a rotary switch
Extends the CAN transmission distance
Note: We have verified to drive 100 CAN nodes at the same time via one CAN port of I-7532.
Baud Rate Selection by Rotary Switch
Switch Value

0

1

2

3

Baud [bps]

Config
Mode

5k or User-defined
CAN baud

10k

20k

Switch Value

4

5

6

7

Baud [bps]

40k

50k

80k

100k

Switch Value

8

9

A

B

Baud [bps]

125k

200k

250k

400k

Switch Value

C

D

E

F

Baud [bps]

500k

600k

800k

1000k
Utlity
Provide CAN bus User-Defined Baud Rate / CAN-ID Acceptance Filter / CAN-ID Mapping configuration
Provide saving the CAN acceptance filter data to file. The "*.dat" file format is compatible with configuration file of I-7565-H1/H2. The "*.xls" file is useful for CAN hardware interface of other companies to configure CAN-ID filter function of I-7532
Support ICP DAS CAN hardware interface including "RS232 to CAN", "Ethernet to CAN", "USB to CAN", "CAN Card" series products for configuration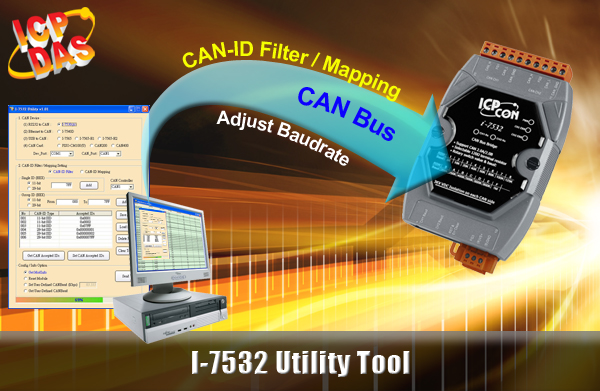 Hardware Specifications
CAN Interface

Transceiver

NXP 82C250

Channel number

2

Connector

4-pin screwed terminal block (CAN_GND, CAN_L, CAN_SHLD, CAN_H)

Baud Rate (bps)

Adjustable CAN bus baud rate from 5Kbps to 1Mbps or programmable user-defined baud rate

Isolation

3000 V

DC

 for DC-to-DC, 2500 Vrms for photo-couple

Terminal Resistor

Jumper for 120 Ω terminal resistor

Specification

ISO-11898-2, CAN 2.0A and CAN 2.0B

Time Delay

[ 1Mbps (8-byte Data) ] ID-29bit => 156us ; ID-11bit => 134us
[ 5Kbps (8-byte Data) ] ID-29bit => 30ms ; ID-11bit => 25ms

Power

Power supply

Unregulated +10 ~ +30 V

DC

Protection

Power reverse polarity protection, Over-voltage brown-out protection

Power Consumption

2 W

Mechanism

Installation

DIN-Rail

Dimensions

72mm x 122mm x 33mm (W x L x H)

Environment

Operating Temp.

-25 ~ 75 ℃

Storage Temp.

-30 ~ 80 ℃

Humidity

10 ~ 90% RH, non-condensing
Hardware Structure
Wire Connection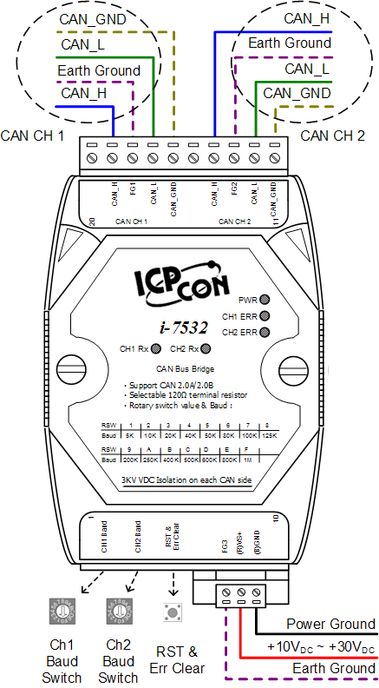 Pin Assignment
Internal I/O Structure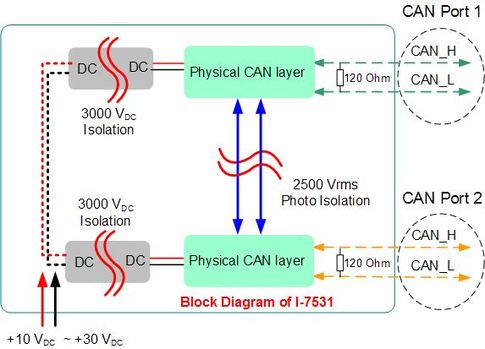 Ordering Informations
| | |
| --- | --- |
| I-7532-G CR | Two-channel CAN Bus Isolated Bridge (RoHS) |