The I-7531/I-7531-UT is an isolated CAN repeater that can be used to establish a physical coupling of two segments of a CAN bus system. This module is designed to isolate the noise and disturbance between the two CAN ports of the I-7531/I-7531-UT. When the CAN signal is decayed because of the rough bus cable or noise, the I-7531/I-7531-UT can recover the shape of the CAN signals to the original ones. Tree topologies can be implemented as well as long drop lines using the I-7531/I-7531-UT. In order to use the I-7531/I-7531-UT easily, the module can automatically adjust the baud rate by itself to match the CAN network. Users just connect the I-7531/I-7531-UT with the CAN buses, check the terminal resistor and power it on, subsequently the I-7531/I-7531-UT enable to work normally.
For detail information , please refer to the user manual of I-7531/I-7531-UT.
Description
Applications
Distributed data acquisition
Features
Compatible with CAN specification 2.0A and 2.0B
Fully compatible with the ISO 11898-2 standard
Maximum communication baud : 800Kbps
2500 VRMS photo coupler isolation on the CAN side
3KV galvanic isolation among the power supply and 2 CAN ports
Jumper for 120Ω terminal resistor of the CAN bus
Two CAN channels
Auto-baud detection
up to 100 nodes on each CAN port
Removable terminal block
Mount easily on DIN-rail
| | |
| --- | --- |
| Note: We have verified to drive 100 CAN nodes at the same time via one CAN port of I-7531/I-7531-UT. | |
Applications Architecture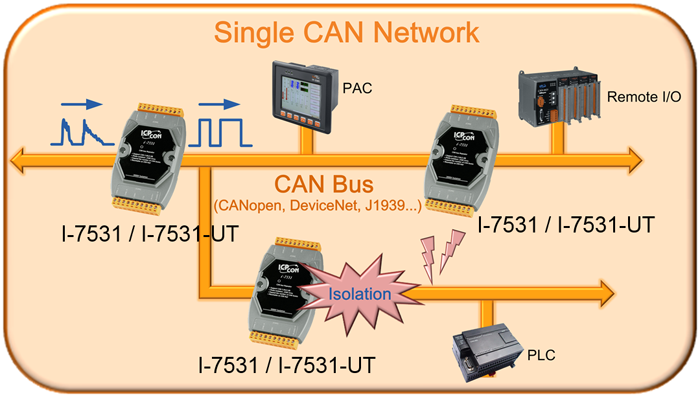 Hardware Specifications
Models
I-7531
I-7531-UT

CAN Interface

Channel number

2

Connector

3-pin screwed terminal block (CAN_GND, CAN_L, CAN_H)

Baud Rate (bps)

5 k ~ 800 k

Isolation

3000 V

DC

 for DC-to-DC, 2500 Vrms for photo-couple

Terminal Resistor

Jumper for 120 Ω terminal resistor

Specification

ISO-11898-2, CAN 2.0A and CAN 2.0B

Propagation Delay

200 ns

Power

Power supply

Unregulated +10 ~ +30 V

DC

Protection

Power reverse polarity protection, Over-voltage brown-out protection

Power Consumption

2 W

Mechanism

Installation

DIN-Rail

Dimensions

72mm x 118mm x 33mm (W x L x H)

Environment

Operating Temp.

-25 ~ 75 ℃
-40 ~ 85 ℃

Storage Temp.

-30 ~ 80 ℃
-45 ~ 90 ℃

Humidity

10 ~ 90% RH, non-condensing
Hardware Structure
Wire Connection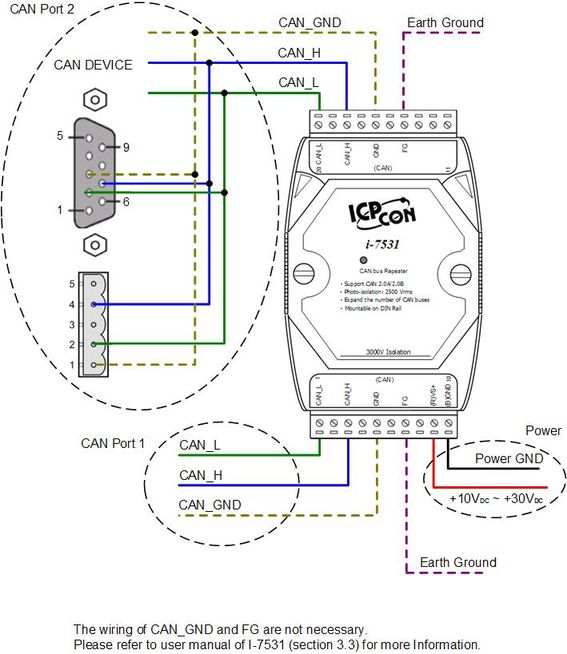 Pin Assignment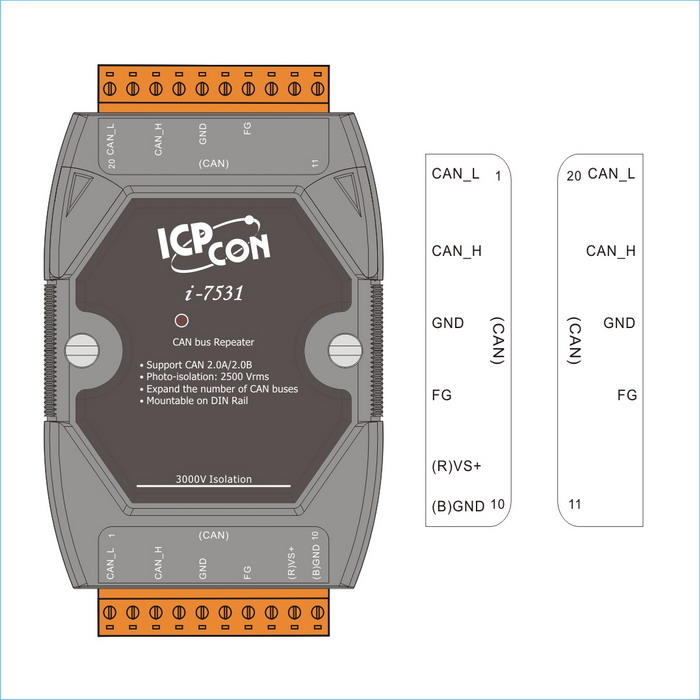 Internal I/O Structure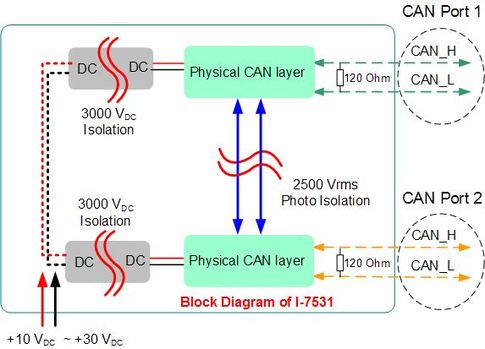 Driving Capability and Baud Rate
The relationship between ideal total bus length and baud are displayed below.
| | |
| --- | --- |
| Baud [bit/sec] | Ideal Bus Length without I-7531/I-7531-UT [m] |
| 800K | 50 |
| 500K | 100 |
| 250K | 250 |
| 125K | 500 |
| 50K | 1000 |
| 20K | 2500 |
| 10K | 5000 |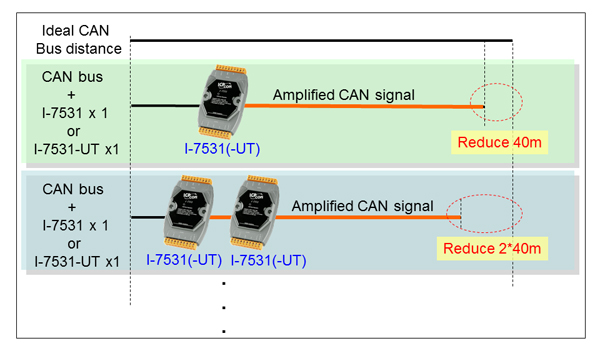 | | |
| --- | --- |
| Note: | When users apply one I-7531/I-7531-UT into a CAN network, the ideal CAN communication distance will be reduced 40 meters. For example, if the CAN network is under 500K bps baud rate and one I-7531/I-7531-UT is applied in the network, the ideal total bus length becomes 100-40*1=60 meters. If using two I-7531/I-7531-UTs in this network, the communication distance is 100-40*2=20 meters. |
After deciding the number of I-7531/I-7531-UT and calculating the corresponding ideal bus length, users can use the following table to know the maximum node number in each segment and the maximum segment length when using different type of wire.
Wire Cross-
Section [mm2]

The maximum segment length [m] under the case of
specific node number in this segment

32 Nodes

64 Nodes

100 Nodes

~0.25 (AWG23)

<200 m

<170 m

<150 m

~0.5 (AWG20)

<360 m

<310 m

<270 m

~0.8 (AWG18)

<550 m

<470 m

<410 m

~1.3 (AWG16)

<900 m

<780 m

<670 m
Note:

The definition of segment and the relationship between segment length (L

seg1

, L

seg2

 …) and ideal total bus length (L

total

) are shown in the following figure.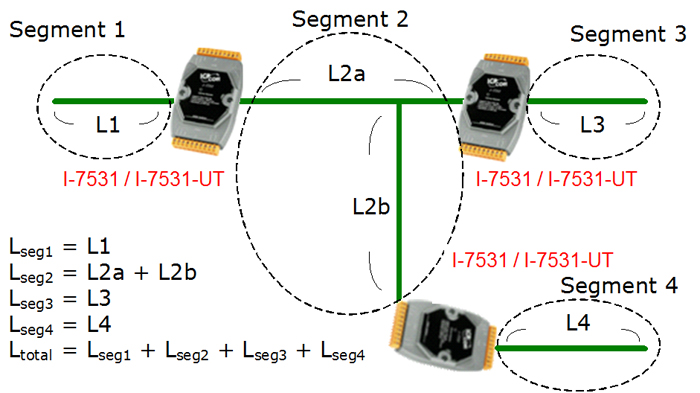 Ordering Informations
| | |
| --- | --- |
| I-7531-G | CAN bus isolated repeater with screw terminal connector |
| I-7531-G CR | CAN bus isolated repeater with screw terminal connector (RoHS) |
| I-7531-UT-G CR | CAN bus isolated repeater with screw terminal connector, -40 to 85°C operating temperature (RoHS) |
|   | |