I-7540D-MTCP I-7540DM-MTCP
The I-7540D-MTCP is helpful for data exchanging between the Modbus devices and CAN devices. I-7540D-MTCP is a Modbus TCP server and acts as slave device in Modbus RTU network. It supports four communication modes: Modbus TCP, Modbus RTU, CAN-Ethernet Convert and Pair connection.
The major function of the I-7540D-MTCP is CAN to Modbus TCP/RTU gateway. It allows Modbus TCP/RTU device to communicate with CAN device on a CAN network. I-7540D-MTCP supports the function codes 0x03/0x04/0x10 of Modbus TCP/RTU for reading and writing CAN messages.
Furthermore, The device supports a transparent, protocol-independent transfer of the CAN messages, thus allowing its implementation into a wide range of possible applications. Furthermore, the CAN-Modbus Converter can be used with various higher layer CAN protocols (e.g. CANopen, DeviceNet or other proprietary protocols). The following figure shows the application architecture for CAN-Modbus Converter.
Description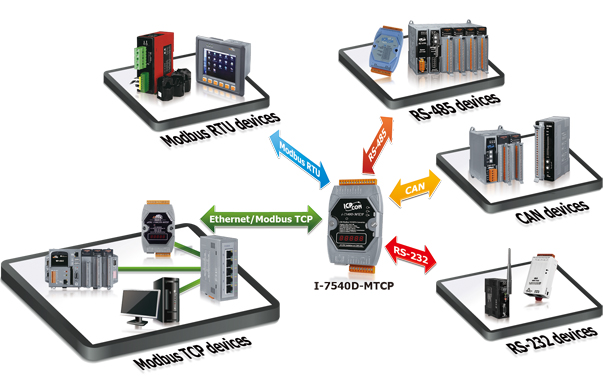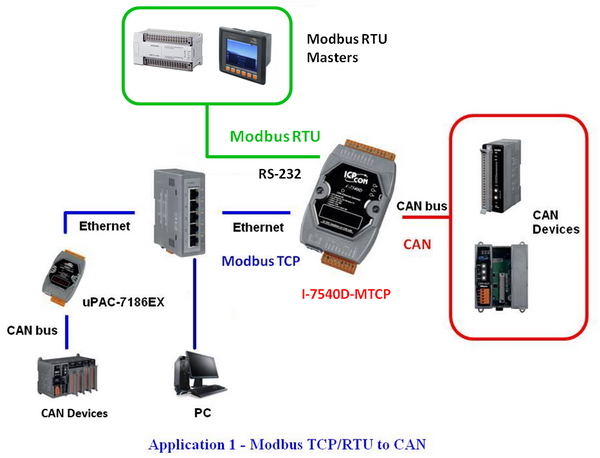 Applications

Features
80186-80 Embedded CPU, or compatible
Ethernet Protocols, TCP,UDP,IP,ICMP,ARP
COM driver support interrupt & 1K QUEUE Input & Output buffer
Provide 200 CAN frames buffer in CAN to Modbus Mode
NXP 82C 250 CAN Transceiver
Support both CAN specification 2.0A and 2.0B
Max transmission speed up to 1M bps for CAN and 115.2kbps for RS-232 & RS-485
Max transmission distance of CAN over 1000m (follow CAN specification)
7-segment LED display to Module IP, RS-232 baud rate, CAN configuration…
CAN Error/Tx/Rx LED indicator
Software configurable CAN and RS-232 communication parameters
Firmware updated from COM1 or Ethernet port
Support Web Configuration
Support maximum 24 Ethernet clients connection
Support function code 0x03/0x04/0x10 of Modbus TCP/RTU command for reading and writing CAN message
Provide the transparent communication between the CAN devices via Ethernet
Utlity
Operation mode configuration
IP 、 Gateway 、 Mask configuration
CAN bus Baud rate configuration
CAN BTR0 and BTR1 configuration
CAN acceptance filter configuration
CAN 2.0A or 2.0B specific selection
Error code Responded selection
Easy test to transmit/receive CAN messages
Easy test to Modbus TCP/Modbus RTU command
Hardware Specifications
CAN Interface

Controller

NXP SJA1000T with 16 MHz clock

Transceiver

NXP 82C250

Channel number

1

Connector

2-pin screwed terminal block (CAN_L, CAN_H)

Baud Rate (bps)

10 k, 20 k, 50 k, 125 k, 250 k, 500 k, 800 k, 1 M (allow user-defined baud rate)

Isolation

1000 VDC for DC-to-DC, 2500 Vrms for photo-coupler

Terminal Resistor

Jumper for 120 Ω terminal resistor

Specification

ISO-11898-2, CAN 2.0A and CAN 2.0B

UART Interface

COM 1

RS-232

COM 1 Connector

5-pin screwed terminal block (TxD, RxD, RTS, CTS, GND )

COM 2

RS-485 (Self-turner inside)

COM 2 Connector

2-pin screwed terminal block (DATA+, DATA-)

Baud Rate (bps)

110, 150, 300, 600, 1200, 2400, 4800, 9600, 19200, 38400, 57600, 115200

Data bit

7, 8

Stop bit

1

Parity

None, Even, Odd

Ethernet Interface

Controller

10/100Base-TX Ethernet Controller (Auto-negotiating, Auto_MDIX)

Connector

RJ-45 with LED indicator

Power

Power supply

Unregulated +10 ~ +30 VDC

Protection

Power reverse polarity protection, Over-voltage brown-out protection

Power Consumption

2.5 W

Mechanism

Installation

DIN-Rail

Dimensions

72mm x 122mm x 33mm (W x L x H)

Environment

Operating Temp.

-25 ~ 75 ℃

Storage Temp.

-30 ~ 80 ℃

Humidity

10 ~ 90% RH, non-condensing
Hardware Structure
Wire Connection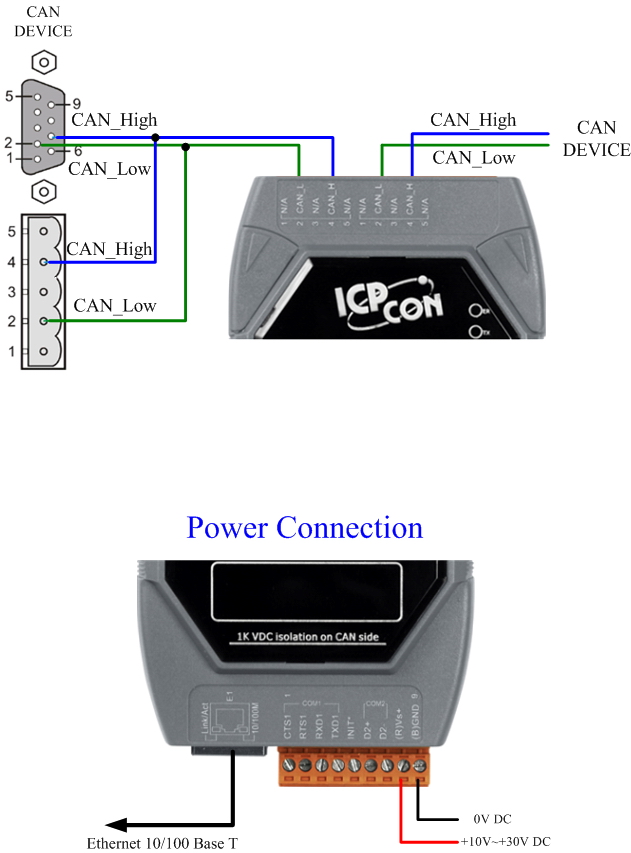 Pin Assignment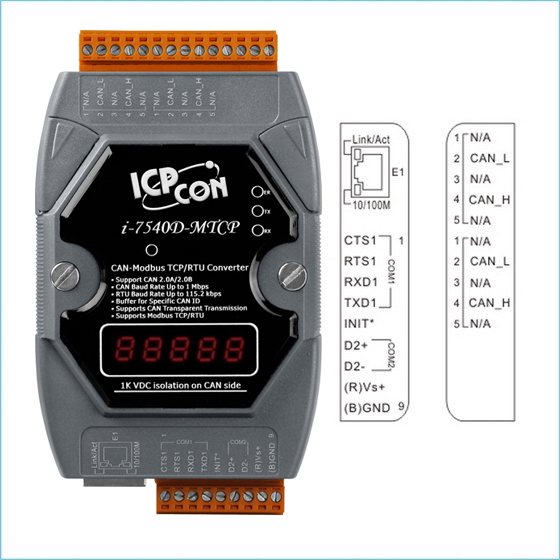 Performance Test
Test development:
OS:Windows XP SP 3
CPU:Intel Core 2 Duo 2.93 GHz
RAM:2GB
The test is the performance which transfer 8 bytes data frame from CAN to Ethernet (one TCP client).

CAN setting

Transfer frames

Transfer time(ms)

Ethernet setting

Receive frames

Receive time (ms)

The max frames/sec

ASCII command length

2.0A 1Mbps

1,000,000

436,658

100M

1,000,000

436,781

2290

22 B

2.0B 1Mbps

1,000,000

472,153

100M

1,000,000

472,265

2118

27 B
The test is the performance which transfer 8 bytes data frame from Ethernet (one TCP client) to CAN.

CAN setting

Transfer frames

Transfer time (ms)

Ethernet setting

Receive frames

Receive time (ms)

The max frames/sec

ASCII command length

2.0A 1Mbps

1,000,000

446,296

100M

1,000,000

446,574

2241

22 B

2.0B 1Mbps

1,000,000

465,843

100M

1,000,000

466,066

2147

27 B
Ordering Informations
| | |
| --- | --- |
| | CAN to Ethernet / Modbus TCP / Modbus RTU Converter (RoHS)) |
| | CAN to Ethernet / Modbus TCP / Modbus RTU Converter (Metal casing) |