The I-2533 is an intelligent CAN bridge that can be used to establish the connection between two CAN bus systems via fiber optic cable. Similar to the I-2532, the I-2533 can also apply in various CAN-based protocols to convert CAN bus signals to optical signals and reshape the CAN signals. The difference between the I-2532 and I-2533 is the CAN configuration functions and the distance limitation of CAN communication. The I-2533 offers the functions to configure the CAN baud rate and CAN message filters. These are useful when using the I-2533 to link two CAN networks which may have different baud rates. By using the I-2533, the transmission distance limitation of the CAN bus system will not be reduced because of the CAN baud rate, which means that the total network length can be extended. This feature means that users can develop the applications more powerful and flexible with the I-2533.
Description

Applications
Control System
Building Automation
Factory Automation
Distributed data acquisition

Features
82C250 CAN transceiver
2500 Vrms isolation on the CAN side
3 kv galvanic isolation between the power supply and CAN channel
Support both CAN 2.0A and CAN 2.0B specification
Fully compatible with the ISO 11898-2 standard
Rotary switch for CAN baud rate configuration
Built-in switch to select 120Ω terminal resistor
Up to 100 CAN nodes on the CAN channel
Fiber Port: ST (Multi-mode)
Wave Length: 850 nm
Transmission distance up to 2 km at any CAN baud rate
Provides the 512-record CAN Tx buffer and 512-record CAN Rx buffer
Removable terminal block, Mount easily on DIN-rail
Allow user-defined baud rate
Utility tool for message filter configuration
Software utility tool for message filter configuration
Broken line detection for fiber cable
Hardware Specifications
CAN Interface

Connector

Screwed terminal block (CAN_GND, CAN_L, CAN_H)

Baud Rate (bps)

10 k ~ 1 M

Transmission Distance (m)

Depend on baud rate

Terminal Resistor

Switch for 120Ω terminal resistor

Isolation

3000 VDC for DC-to-DC, 2500 Vrms for photo-couple

Specification

ISO-11898-2, CAN 2.0A and CAN 2.0B

Time Delay

250 us *Note1

Fiber Interface

Connector

ST (Multi-mode)

Wave Length

850 nm

Fiber Cable

50 / 125 μm , 62.5 / 125 μm, 100 / 140 μm (62.5 / 125μm is recommended)

Transmission Distance (m)

2 km max (in 62.5 / 125 μm fiber cable) at any CAN baud rate

LED

Round LED

PWR LED, CAN_Tx LED, CAN_Rx LED, CAN_Err LED, FB_Err LED

Power

Power supply

Unregulated +10 ~ +30 V

DC

Protection

Power reverse polarity protection, Over-voltage brown-out protection

Power Consumption

3 W

Mechanism

Installation

DIN-Rail

Dimensions

32.3mm x 77.5mm x 99.0mm (W x L x H)

Environment

Operating Temp.

-25 ~ 75 ℃

Storage Temp.

-30 ~ 80 ℃

Humidity

10 ~ 90% RH, non-condensing
Note1:
The propagation delay depends on the CAN Bus baud rate and the CAN message format. This value has been tested using a CAN baud rate of 1 Mbps, the CAN ID 0x12345678 and 8 bytes of data with a value of 0xFF.
Network Deployment

| | |
| --- | --- |
| Baud [bit/sec] | Ideal Fiber Length [m] |
| 1M | 2000 |
| 800K | 2000 |
| 500K | 2000 |
| 250K | 2000 |
| 125K | 2000 |
| 50K | 2000 |
| 20K | 2000 |
| 10K | 2000 |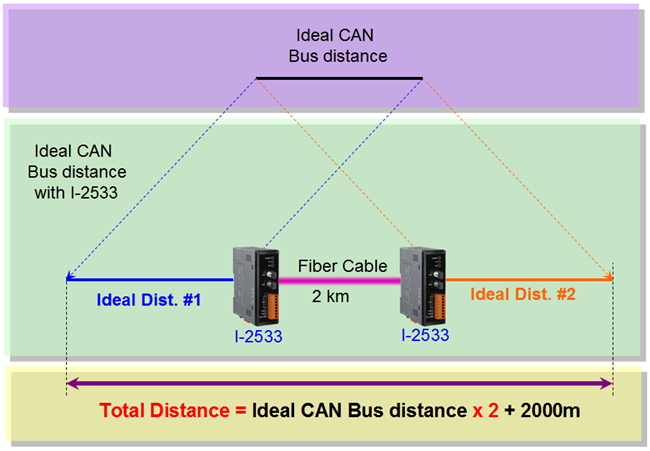 Ordering Informations
| | |
| --- | --- |
| | CAN/Fiber Converter (RoHS) |