The I-2533CS series (I-2533CS, I-2533CS-60, I-2533CS-A and I-2533CS-B) is a local CAN bridge used to establish a connection between two CAN bus system via single mode fiber optic transmission medium. In order to solve the problem between CAN and fiber transmission medium, the I-2533CS series is specially designed for converting the electrical CAN bus signal to fiber optic cables. Besides, the I-2533CS-A/B supports Wavelength Division Multiplexing (WDM) technology so that only a single fiber cable is needed for transmitting bi-directional CAN data. As the I-2533CS-A and I-2533CS-B must be paired because of hardware limitations, this means that the cost of deploying fiber cable can be effectively reduced.
I-2533CS series has three more important features. First, the transmission distance limitation of the CAN bus system will not affected due to the different CAN baud rate. It means that the total CAN bus working distance can be extended. Second, the bus error on one CAN network will not affect the operation of another CAN network. Finally, the two CAN network can communication with each other by using different CAN baud rate for highly flexibility.
Description
Applications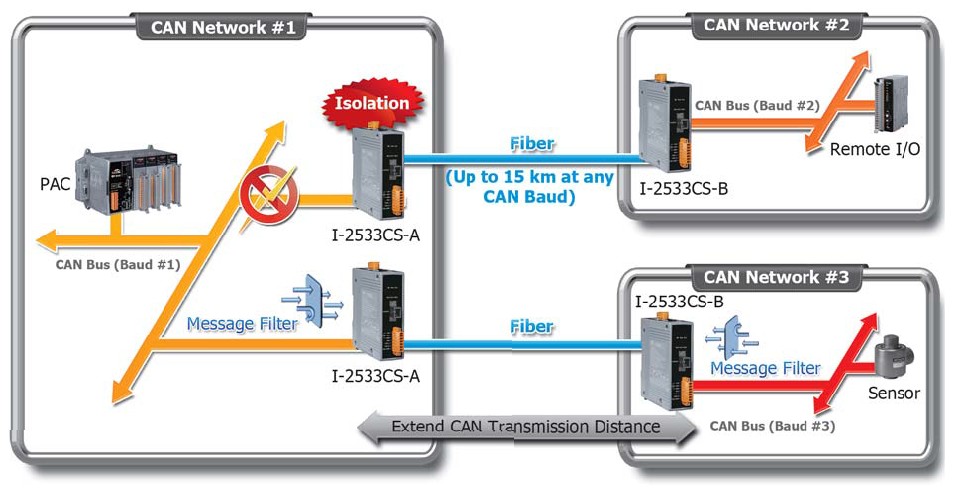 The mainly difference between I-2533 and I-2533CS series are fiber connectors and transmission distance. The I-2533CS series is designed for single mode fiber, and allow to extern CAN bus to maximum 30 km. Besides, I-2533CS provides the group function, which is the basic message router. Users can decide the CAN message flows between several CAN bus systems. I-2533CS series also provides the utility tool for user-defined baud rate and filter configuration. By using this tool, it is allowed to have user-defined baud rate and CAN message filter. When users use the I-2533CS series on two CAN network with different CAN baud rate, it may be useful to reduce the bus loading of the network which has low baud rate.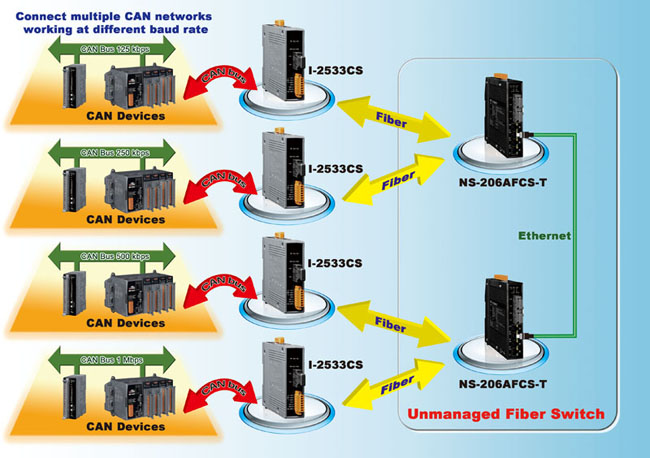 Features
Fiber Type: SC ; Single mode ; 100 Base-FX
Maximum transmission distance up to 30 km (60km for I-2533CS-60, 15km for I-2533CS-A and I-2533CS-B) at any CAN baud rate
NXP TJA1042 CAN transceiver
2500 Vrms isolation on the CAN side
Supports both CAN 2.0A and CAN 2.0B
Fully compatible with the ISO 11898-2 standard
Rotary switch for CAN baud rate configuration
Build-in switch for 120 Ω terminal resistor
Removable terminal block, Mount easily on DIN-Rail
Allows user-defined CAN baud rate
Fiber broken line detection
Utility tool for CAN message filter configuration
The CAN port with the same Group ID can communicate with each other
Hardware Specifications
Model Name
I-2533CS
I-2533CS-60
I-2533CS-A / I-2533CS-B*Note1
CAN Interface
Connector
Screwed terminal block (CAN_GND, CAN_L, CAN_H)
Baud Rate (bps)
10 k ~ 1 M
Transmission Distance (m)
Depend on baud rate
Terminal Resistor
Switch for 120Ω terminal resistor
Isolation
2500 Vrms on the CAN side
Specification
ISO 11898-2, CAN 2.0A and CAN 2.0B
Propagation Delay
190 us *Note2
Fiber Interface
Type
SC Duplex type ; Single mode ; 100 Base-FX
SC type ; Single mode ; 100 Base-FX
Wave Length (nm)
1310
TX: 1310, RX: 1550 for I-2533CS-A
TX: 1550, RX: 1310 for I-2533CS-B
Fiber Cable (

μ

m)
8.3/125, 8.7/125, 9/125 or 10/125
Transmission Distance (km)
30 (indicative only)
60 (indicative only)
15 (indicative only), (9/125 

μ

m recommended)
Min. TX Output (dBm)
-15
-5
-14
Max. TX Output (dBm)
-8
0
-8
Max. RX Sensitivity (dBm)
-34
-35
-31
Max. RX Overload (dBm)
-5
0
Budget (dBm)
19
30
17
UART Interface
COM1
RS-232 (configuration only)
COM1 Connector
Screwed terminal block (RXD, TXD, GND)
LED
Round LED
PWR, FB_Ack, FB_Err, CAN_Err, CAN_Tx and CAN_Rx LEDs
Power
Power supply
Unregulated +10 ~ +30 VDC
Protection
Power reverse polarity protection, Over-voltage brown-out protection
Power Consumption
0.125 @ 24VDC
Mechanism
Installation
DIN-Rail
Dimensions
33.0 mm x 126 mm x 101 mm (W x L x H)
Environment
Operating Temp.
-25 ~ 75 

℃

Storage Temp.
-30 ~ 80 

℃

Humidity
10 ~ 90% RH, non-condensing
Note1:
The I-2533CS-A and I-2533CS-B is a couple. Users must use pair in the applications. Due to this characteristic, the Group ID of the I-2533CS-A and I-2533CS-B is not used..
Note2:
The propagation delay depends on the CAN Bus baud rate and the CAN message format. This value has been tested using a CAN baud rate of 1 Mbps, the CAN ID 0x12345678 and 8 bytes of data with a value of 0xFF.
Network Deployment

| | |
| --- | --- |
| CAN Baud rate [bit/sec] | Ideal Fiber Length [km] |
| 1M | 30 |
| 800K | 30 |
| 500K | 30 |
| 250K | 30 |
| 125K | 30 |
| 50K | 30 |
| 20K | 30 |
| 10K | 30 |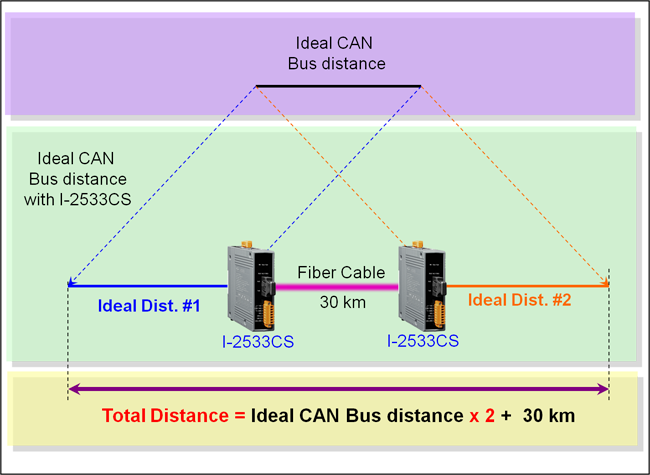 Hardware Structure
Wire Connection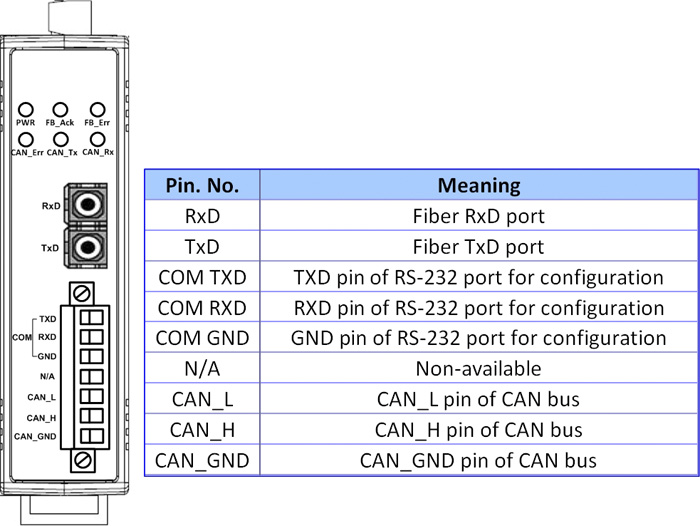 Pin Assignment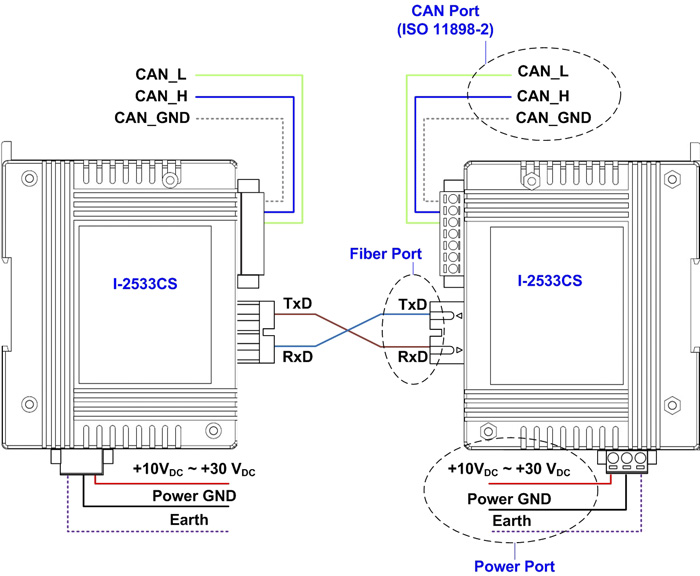 Internal I/O Structure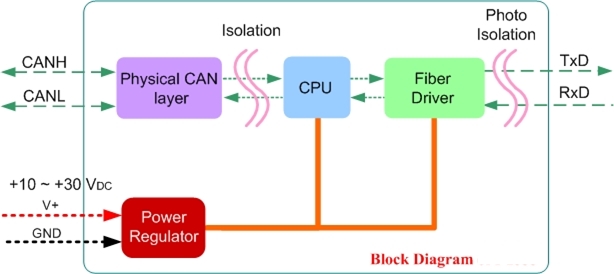 Ordering Informations
| | |
| --- | --- |
| I-2533CS CR | CAN to Single Mode Fiber Bridge; 1 single mode, SC connector (RoHS) |
| I-2533CS-60 CR | CAN to Single Mode Fiber Bridge; 1 (60 km) single mode, SC connector (RoHS) |
| I-2533CS-A CR | CAN to Single Mode Fiber Bridge ; 1 (15 Km) single mode, SC connector, TX 1310 nm, RX 1550 nm (RoHS) |
| I-2533CS-B CR | CAN to Single Mode Fiber Bridge ; 1 (15 Km) single mode, SC connector, TX 1550 nm, RX 1310 nm (RoHS) |