 | | |
| --- | --- |
| Wireless 14-channel Isolated Digital Output Module | |
ZT-20xx-IOG series (referred to as ZT-IOG) is a series of ZigBee wireless communication module with Digital Input and Digital Output channels. The "IOG" in the ZT-IOG is the abbreviation for the I/O Group and means the multi-to-multi Pair-connection I/O modules.
The ZT-2043-IOG module is one of the ZT-20xx-IOG series that provides 14 digital output channels. User can easily configure it as either a ZigBee Coordinator or a ZigBee Router via the external switches.
The ZigBee Coordinator will serve as a message processing and distribution center. In other words, as long as any DI of any ZT-IOG module changes its channel state, it will immediately trigger an event and upload it to the ZigBee Coordinator for I/O updating logic calculations to determine the DO output states of the ZT-IOG system. Then, the ZigBee Coordinator will broadcast a message periodically to all ZT-IOG ZigBee Router modules for synchronizing all DO channel states to achieve the multi-to-multi I/O Pair-connection function.
Description
Applications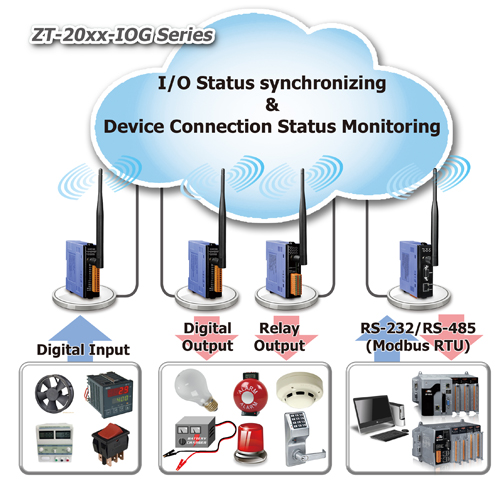 Features
ISM 2.4 GHz Operating Frequency
Fully Compliant with 2.4G IEEE 802.15.4 / ZigBee Specifications
Supports AES-128 Encryption for the Wireless Communication
Wireless Transmission Range up to 700 m (Default)
Adjustable RF Transmission Output Power
Physical Pair-connection Channels of 14 Digital Output
280 Logical Pair-connection Channels Supported
Configurable I/O Pairing Relationship
DO Safe Value Setting for Wireless Disconnection Monitoring
Surge and ESD Protection
DIN-Rail Mounting
I/O Specifications
Digital Output

Output Channels

14 (Sink)
Output Types
Isolated Open Collector
Max. Load Current
700 mA/channel
Load Voltage
+5 V

DC

 ~ +50 V

DC

External Power Reversed
Protection and Short
Circuit Protection
Yes
Current Limited Protection
1.1 A
System Specifications
Communication Interface

Wireless Standards

ZigBee 2007 Pro
Transmission Power
11 dBm (Default, FCC Certificated); Max. 19 dBm
2.4 GHz Antenna
5 dBi Omni directional
Transmission Range (LoS)
700 m (Typical)
Max. Slaves in a ZigBee Network
255
LED Indicators
Power
1 LED, Red
ZigBee Communication
1 LED, Green
Digital Output
14 LEDs, Red
Isolation
Intra-module Isolated, Field-to-Logic
3750 V

DC

EMS Protection

ESD (IEC 61000-4-2)

4 kV Contact for Power Line, Communication Line and each Channel, 8 kV Air for Random Point
EFT (IEC 61000-4-4)
4 kV for Power
Surge ( IEC 61000-4-5)
3 kV for Power
Power
Input Voltage Range
+10 V

DC

 ~ +30 V

DC

Power Consumption
Max. 0.84 W
Mechanical
Flammability
Fire Retardant Materials (UL 94V-0 Level)
Dimensions (L x W x H)
87 mm x 33 mm x 110 mm
Installation
DIN-Rail
Environment
Operating Temperature
-25 ~ +75°C
Storage Temperature
-30 ~ +80°C
Relative Humidity
10 ~ 90% RH, Non-condensing
Ordering Informations
| | |
| --- | --- |
| ZT-2043-IOG CR | ZigBee I/O Group (Pair-connection) Module with the 14-channel Isolated Digital Output (Full-function) (RoHS) |