 | | |
| --- | --- |
| Wireless 4-channel PhotoMOS Relay Output and 4-channel Open Collector Output Module | |
The ZT-2042 offers 4 PhotoMOS relay output channels and 4 sink-type digital output channels with short circuit protection. Each channel features photo couple isolation. There are options for configuring power-on and safe digital output values. The ZT-2042 has 8 LED indicators to display the DO channel status. 4 kV ESD protection and 3000 VDC intra-module isolation are the standard. Users can easily configure the module address, protocol, checksum, ZB-PID and ZB-channel settings using a combination of rotary and DIP switches.
Description
Applications
Building Automation, Factory Automation, Machine Automation, Remote Maintenance, Remote Diagnosis, Testing Equipment.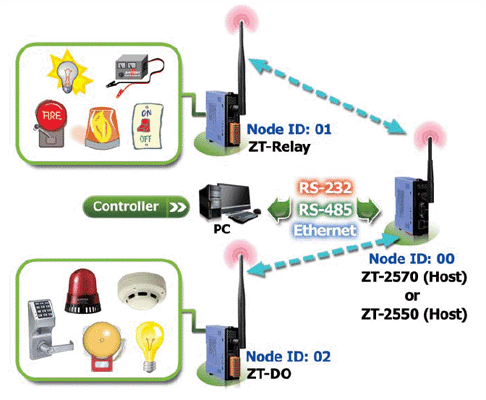 Features
ISM 2.4 GHz Operating Frequency
Fully Compliant with 2.4G/ ZigBee Specifications
Wireless Transmission Range up to 700 m (Default)
Adjustable RF Transmission Output Power
External DIP and Rotary Switches for easy Configuration
GUI Configuration Software (Windows Version)
Supports AES-128 Encryption for the Wireless Communication (Passive)
Supports ZigBee Repeater Function
4 PhotoMOS Relay Output Channels and 4 Open Collector Digital Output
Channels
Short Circuit Protection
Surge and ESD Protection
Configurable Power-on Value and Safe Value Settings
DIN-Rail Mounting
I/O Specifications
Relay Output

Output Channels

4
Output Types
PhotoMOS Relay, Form A
Load Voltage
60 V

DC

/V

AC

Max. Load Current
60 V/1.0 A (Operating Temperature: -25 ~ +40°C)
60 V/0.8 A (Operating Temperature: +40 ~ +60°C)
60 V/0.7 A (Operating Temperature: +60 ~ +75°C)
Power-on Time
5.0 ms
Power-off Time
0.5 ms
Power-on Value
Yes
Safe Value
Yes
Digital Output
Output Channels
4 (Sink)
Output Types
Isolated Open Collector
Max. Load Current
700 mA/channel
Load Voltage
+5 V

DC

 ~ +50 V

DC

Power-off Time
0.5 ms
External Power Reversed
Protection and Short
Circuit Protection
Yes
Current Limited Protection
1.1 A
Power-on Value
Yes
Safe Value
Yes
System Specifications
Relay Output

Output Channels

4
Output Types
PhotoMOS Relay, Form A
Load Voltage
60 V

DC

/V

AC

Max. Load Current
60 V/1.0 A (Operating Temperature: -25 ~ +40°C)
60 V/0.8 A (Operating Temperature: +40 ~ +60°C)
60 V/0.7 A (Operating Temperature: +60 ~ +75°C)
Power-on Time
5.0 ms
Power-off Time
0.5 ms
Power-on Value
Yes
Safe Value
Yes
Digital Output
Output Channels
4 (Sink)
Output Types
Isolated Open Collector
Max. Load Current
700 mA/channel
Load Voltage
+5 V

DC

 ~ +50 V

DC

Power-off Time
0.5 ms
External Power Reversed
Protection and Short
Circuit Protection
Yes
Current Limited Protection
1.1 A
Power-on Value
Yes
Safe Value
Yes
Ordering Informations
| | |
| --- | --- |
| ZT-2042 CR | Wireless 4-channel PhotoMOS Relay Output and 4-channel Open Collector Output Module (ZigBee Router) (RoHS) |