RS-232/422/485 to Single-Mode Fiber optic converter
The I-2541 is an RS-232/422/485 to fiber optic converter that secures data transmission by using fiber optic transmission to provide immunity from EMI/RFI interference. The I-2541 is used for RS-232/422 point-to-point connections and RS-485 multi-drop applications for transmitting a signal up to 2 km and is the perfect solution for applications where transmission must be protected from electrical exposure, surges or chemical corrosion.
The I-2542 series of Single-Strand Fiber Converters supports Wavelength Division Multiplexing (WDM) technology that allows two independent data communication channels to transmit and receive over one standard, single mode, fiber optic line. This not only doubles your existing bandwidth, but also effectively reduces the cost of creating a new fiber optic infrastructure.
Request For Quotation
Description
Applications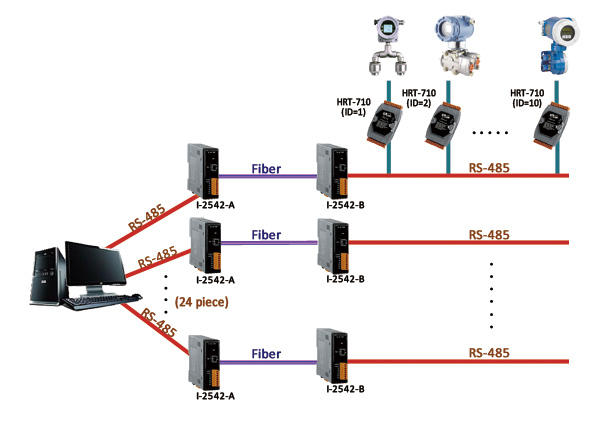 Features
Automatic RS-485 Direction Control
Optical fibers enable transmission of 2 km for I-2541 ,15 km for
I-2542-A/I-2542-B and 25 km for I-2542-A25/I-2542-B25
Avoids lightning strikes and EMI/RFI interference
Supports +10 VDC ~ +30 VDC
ESD Protection for the RS-232/422/485 Data Line
DIN-Rail Mounting
Supports operating temperatures from -25 °C ~ +75 °C
Hardware Specifications
Models
I-2541
I-2542 series
Interface

Fiber Interface

Fiber Port
Multi Mode; ST connector
Single-Mode; SC connector
Wavelength
850 nm
TX: 1310, RX: 1550 nm for I-2542-A/I-2542-A25
TX: 1550, RX: 1310 nm for I-2542-B/I-2542-B25
Fiber Cable
50/125, 62.5/125, 100/140 μm
8.3/125, 8.7/125, 9/125 or 10/125 μm
Distance
2 km, (62.5/125 μm recommended)
15 km for I-2542-A/I-2542-B
25 km for I-2542-A25/I-2542-B25
(9/125 μm recommended)

Serial Interface

RS-232
The RS-232, RS-422 and RS-485 cannot be used simultaneously
TxD, RxD, GND
RS-422
TxD+, TxD-, RxD+, RxD-
RS-485
Data+, Data-
RS-422/485 Transmission Distance
Max. 1,200 m at 9.6 kbps; Max. 400 m at 115.2 kbps
(Belden 9841 2P twisted-pair cable, if different cables are used, the transmission distance may change)
Self-Tuner Asic Inside
Yes
Fixed baud rate setting via rotary switch
Speed
300 ~ 115200 bps
1200 ~ 115200 bps
ESD Protection
Yes
RS-232/422/485 Connector
Removable 8-Pin Terminal Block
LED Indicators
Power
Yes
Power
Input Voltage Range
+10 V

DC

 ~ +30 V

DC

 (Non-isolated)
Power Consumption
1.5 W
2 W
Mechanical
Casing
Plastic
Flammability
Fire-Retardant Materials (UL94-V0 Level)
Dimensions (W x L x H)
33 mm x 89 mm x 107 mm
Installation
DIN-Rail Mounting
Environment
Operating Temperature
-25 °C ~ +75 °C
Storage Temperature
-30 °C ~ +75 °C
Humidity
10 ~ 90% RH, non-condensing
Ordering Informations
| | |
| --- | --- |
| I-2541 CR | RS-232/422/485 to Mulit-Mode 2 Km, ST Fiber optic converter (RoHS) |
| I-2542-A CR | RS-232/422/485 to Single-Mode 15 Km, SC Fiber optic converter, TX 1310 nm, RX 1550 nm (RoHS) |
| I-2542-B CR | RS-232/422/485 to Single-Mode 15 Km, SC Fiber optic converter, TX 1550 nm, RX 1310 nm (RoHS) |
| I-2542-A25 CR | RS-232/422/485 to Single-Mode 25 Km, SC Fiber optic converter, TX 1310 nm, RX 1550 nm (RoHS) |
| I-2542-B25 CR | RS-232/422/485 to Single-Mode 25 Km, SC Fiber optic converter, TX 1550 nm, RX 1310 nm (RoHS) |