I-7565-H1 and I-7565-H2 are the high performance intelligent USB to CAN converters with one and two CAN channels separately. They improve the transformation speed of the I-7565, and allows receiving max. 3000 standard 2.0A CAN frames per second. Both I-7565-H1 and I-7565-H2 support CAN2.0A/2.0B protocol and different baud rates from 5 Kbps to 1 Mbps. The important feature of I-7565-H1/H2 is to support the user-defined baud rate function no matter what the baud rate is. When connecting I-7565-H1/H2 to PC, PC will load the relevant device driver automatically (hot plug & play). Therefore, users can make data collection and processing of CAN bus network easier and quicker by applying I-7565-H1/H2. The application fields can be CAN bus monitoring, building automation, remote data acquisition, environment control and monitoring, laboratory equipment & research, factory automation, etc.
Description
The following is the application structure for these two USB/CAN modules. The PC can be the CAN host, monitor or HMI to access/control the CAN device through the CAN network by the I-7565-H1/H2 Converter. These modules let users to communicate with CAN devices easily from PC with USB interface.
(1) I-7565-H1: High Performance intelligent USB to 1- port CAN bus Converter.
(2) I-7565-H2: High Performance intelligent USB to 2- port CAN bus Converter.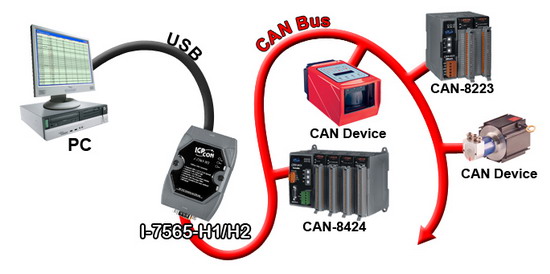 Application of I-7565-H1/H2
I-7565-H1 Application

2500Vrms isolation on CAN side
The CAN port of I-7565-H1/H2 is isolated with 2500Vrms. This isolation can protect the local devices from the damage signal coming from CAN network.
Watchdog inside
The I-7565-H1/H2 Watchdog is a hardware reset circuit to monitor the operation status of I-7565-H1/H2. When working in a harsh or noisy environment, the I-7565-H1/H2 may be down by the external signal. The circuit may let the I-7565-H1/H2 work continuously and never halt.
Power / Communication / Error indicator display
There are three indicators on the I-7565-H1/H2.The power indicator can help user to check whether the I-7565-H1/H2 is standby. The communication indicator is used to show whether the I-7565-H1/H2 is transmitting/receiving messages. The Error indicator will be turned on when some errors occur on the I-7565-H1/H2.
Applications
Factory Automation

Building Automation    

Home Automation    

Control System    

Monitor System

Vehicle Automation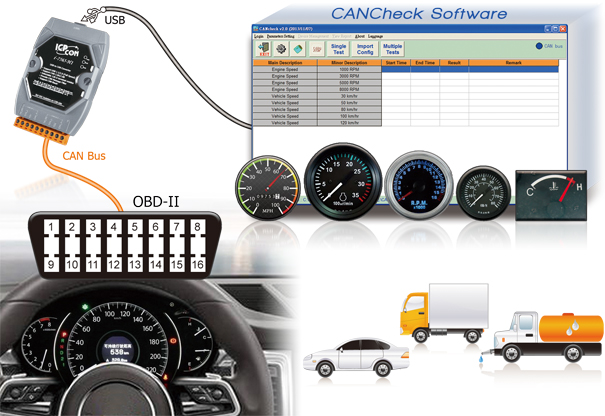 Features
RoHS Design
Fully compliant with USB 1.1/2.0(Full Speed)
Fully compatible with the ISO 11898-2 standard
Support both CAN2.0A and CAN2.0B
No external power supply (powered by USB)
Integrated with one or two CAN bus channels
Programmable CAN bus baud rate from 5Kbps to 1Mbps or user-defined baud rate
Support CAN bus acceptance filter configuration
Time-stamp of CAN message with at least ±1ms precision
Support firmware update via USB
Provide utility tool for users module setting and CAN bus communication testing conveniently
Provide API library for users' program development easily
Provide "Hardware Serial Number" to protect users' program
(For FW v1.04 and libary v1.07 or newer) (NEW)
Provide "Listen Only Mode" function
(For FW v1.05 and Utility v1.09 or newer) (NEW)
Provide "CAN Error Frame" Information
(For FW v1.07 or newer) (NEW)
Provide "Adjustable Bit-Timing of CAN Baud (Tseg2)" function
(For FW v1.07 or newer) (NEW)
Increase HWSendTimer Number from 1 set to 5 sets and add "AddMode" and "AddVal" parameter for HWSendTimer
(For FW v1.05 or newer) (NEW)
Add "User Defined ISR" interrupt function
(For API v1.08 or newer) (NEW)
Add Driver Signature Certificate for Win7 x64 platform in driver v1.2
Provide PWR / RUN / ERR indication LED
Built-in jumper to select 120 ohm terminal resister
Max data flow flow Windows 2000/xp, win7(32 & 64 bit), Linus and WinCE (available soon)
The CAN buffer is 256 data frames for I-7565-H1 and 128 data frames in each CAN port for I-7565-H2.
Watchdog inside
Driver supported for Windows 2K/XP/Vista/7 (32 & 64 bit)/8.x, and Linux
In order to apply the I-7565-H1/H2 to CAN network with NI LabVIEW software, we provide a LabVIEW 8.x library and demo for the purpose. It is very useful to develop the CAN-relative application in NI LabVIEW environment by using I-7565-H1/H2. It is easy to use and can help user to rapidly reduce their program development cycle. If users want to develop a LabVIEW industrial application with CAN network, the LabVIEW library and demo of I-7565-H1/H2 is very helpful.
Utility
Provide CAN bus user-defined baud rate / acceptance filter configuration
Easily transmit/receive CAN messages for testing and display the time-stamp of each received CAN message
Provide saving the CAN message as "TXT" file for data log
Provide sending CAN message by using the internal timer of module for high precision transmission
Check / Reset module status remotely and get current CAN bus message flow
Users can develop own program by API library quickly and easily
Provide "CAN bus Flow Trend" screen in utility
(For v1.09 or newer) (NEW)
Provide "Scroll" and "OverWrite" mode for CAN RecvMsg Table in utility
(For v1.09 or newer) (NEW)
Provide "CAN-ID Tagging" function (replace the CAN-ID by a symbolic name) in OverWrite Mode.
(For v1.10 or newer) (NEW)
Hardware Specifications
Item

I-7565-H1

I-7565-H2

Hardware
CAN Port Channels

1

2

CAN Interface
Transceiver

NXP 82C250

NXP 82C250

Connector

9-pin D-sub connector

10-pin terminal-block connector

Baud Rate (bps)

5K ~ 1Mbps or User-defined baud rate

5K ~ 1Mbps or User-defined baud rate

Isolation

3000V

DC

 for DC-to-DC

2500Vrms for photo-couple

3000V

DC

 for DC-to-DC

2500Vrms for photo-couple

Terminal Resistor

Selectable 120Ω terminal resistor by jumper

Selectable 120Ω terminal resistor by jumper

Specification

ISO-11898-2, CAN 2.0A and CAN 2.0B

ISO-11898-2, CAN 2.0A and CAN 2.0B

Pin Assignment

C.I.A. DS-102 (CAN_H=7, CAN_L=2)

(CAN1: CAN_H=4, CAN_L=2 ) /
(CAN2: CAN_H=9, CAN_L=7 )

Receive Buffer

256 data frames

128 data frames for each CAN port

Max Data Flow

3000 fps

3000 fps (Total CAN ports)

USB Interface
Connector

USB Type B

USB Type B

Transmission speed

12M kbps

12M kbps

Specification

USB 1.1 and USB 2.0 standard

USB 1.1 and USB 2.0 standard

Receive Buffer

100 data frames

100 data frames

LED
Round LED

PWR / RUN /ERR LED

PWR / RUN /ERR LED

Software
Driver

Windows 2K/XP/7/8/10, Linux

Windows 2K/XP/7/8/10, Linux

Power
Power supply

By USB interface

By USB interface

Power Consumption

1.5 W

1.5 W

Dip Switch

Init (Firmware Update) /
Normal (Firmware Operation)

Init (Firmware Update) /
Normal (Firmware Operation)

Mechanism
Installation

DIN-Rail

DIN-Rail

Dimensions

108mm x 72mm x 35mm (H x W x D)

108mm x 72mm x 35mm (H x W x D)

Environment
Operating Temp.

-25 ~ 75 ℃

-25 ~ 75 ℃

Storage Temp.

-30 ~ 80 ℃

-30 ~ 80 ℃

Humidity

10 ~ 90% RH, non-condensing

10 ~ 90% RH, non-condensing
Hardware Structure
Wire Connection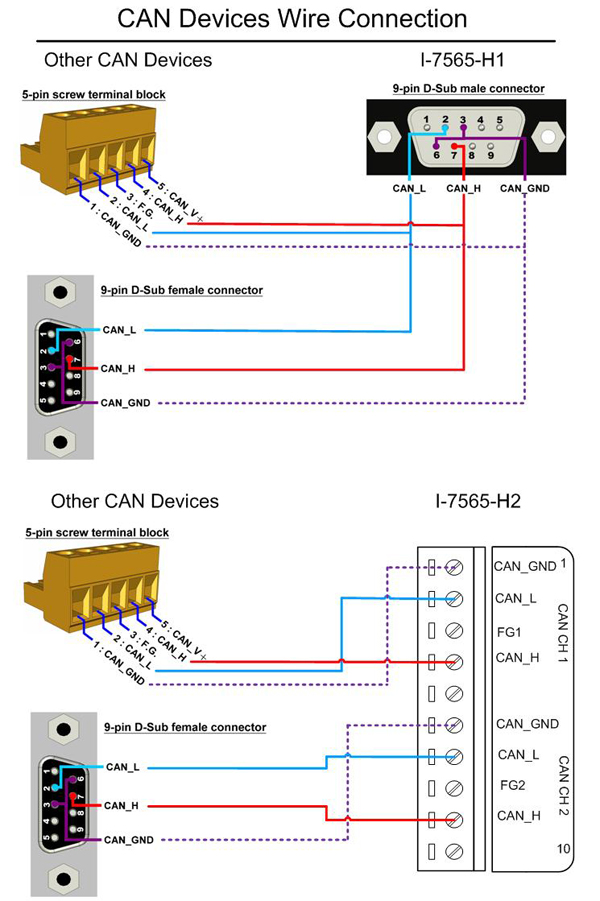 Pin Assignment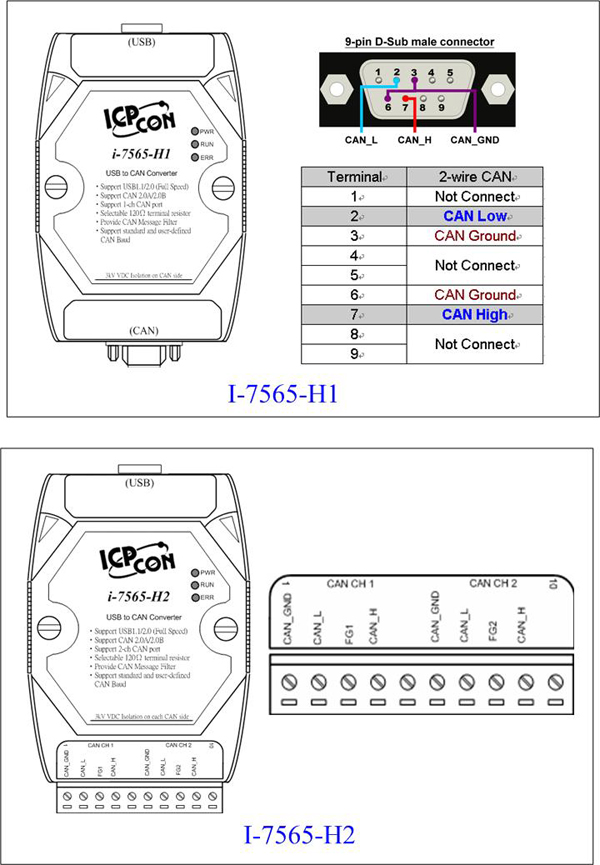 Internal I/O Structure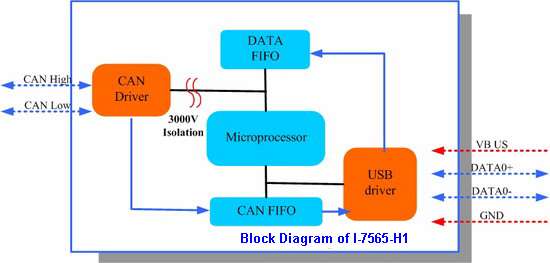 Ordering Informations
| | |
| --- | --- |
| | High Performance Intelligent USB to 1-port CAN bus converter (RoHS) |
| | High Performance Intelligent USB to 2-port CAN bus converter (RoHS) |
| | CA-USB18(1.8M Cable)x1 |