WLS-T11 is a 2.4GHz wireless transmitter (called Tag) by battery supported, it can broadcast automatically 2.4GHz wireless location packages to WLS-R01. WLS-T11's wireless frequency use ISM 2.4GHz global common frequency band which have 16 channels between 2.405GHz and 2.48GHz., it can separated into 5MHz segments, and WLS-T11 supports 16 sectors of RF power setting. The user can press the button to send an help package or enter the setting mode to set above value.
In addition, WLS-T11 supports help button, low battery power indicator, and built in Node ID, 3dBi directional PCB antenna and other user-friendly design can effectively reducing the size for the user to carry it. The user can also send a distress signal in an emergency situation, and let people know his relative position to support him.
The wireless transmission range (line of sight, LOS) of WLS-T11 is 50 meters, and WLS-T11 uses low power consumption design architecture, when the user get the battery (4. 2 VDC) fully charge and the wireless transmission interval is 3 seconds, operating temperature in -20℃ to +60℃, the use of time can be up to 30 days. If battery will low power, the user can pulg in usb to be charged. WLS-T11 very suitable for use in item tracking, personnel movements in hazardous areas, factory regional management and other applications.
Description
Applications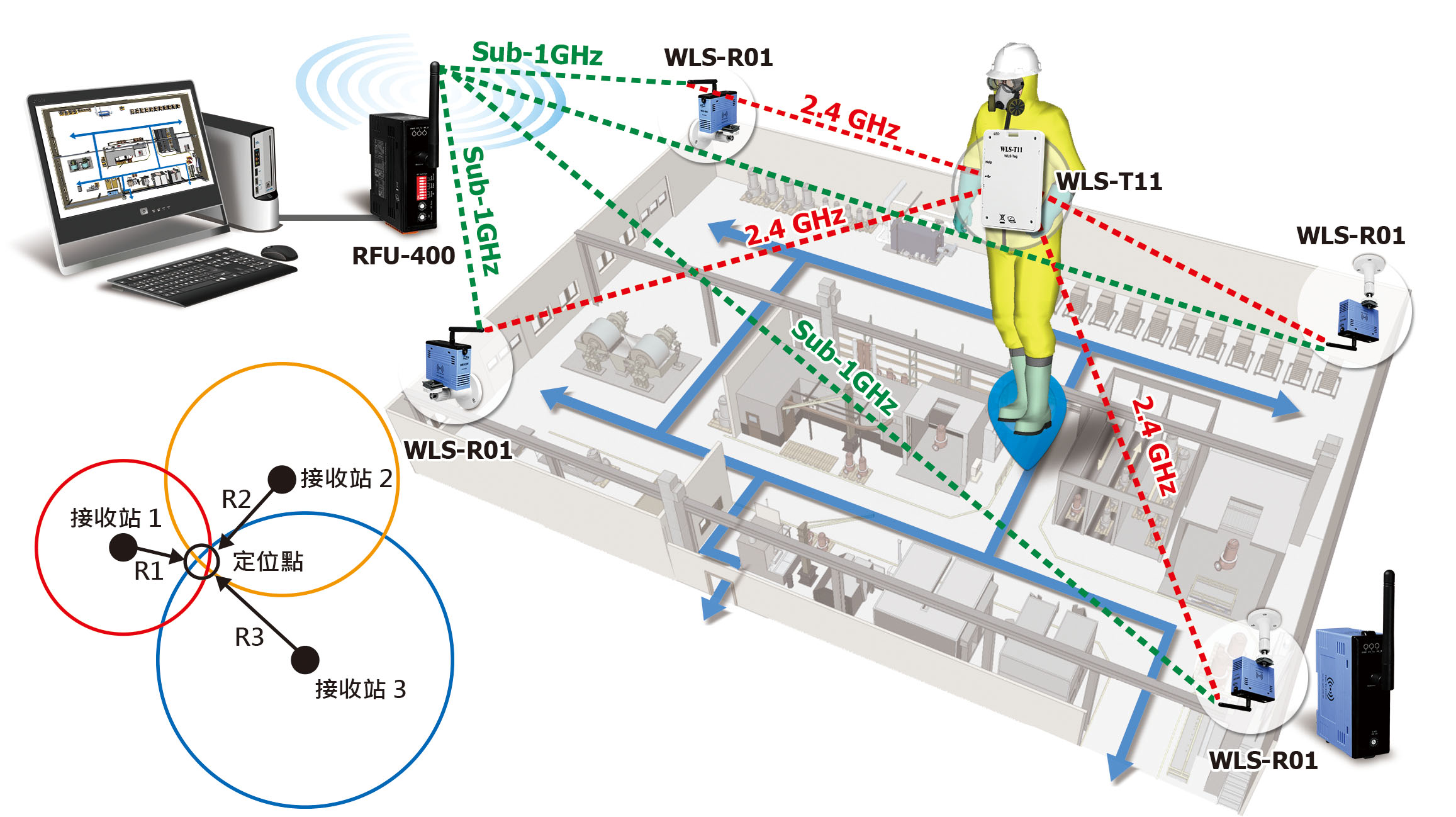 Features
Supports the button help function
Supports 16 segments setting of RF channels
Supports 16 segments setting of RF power
Built in battery low power LED indicator
Built in 2.4GHz 3dBi PCB directional antenna
ISM 2.4GHz operating frequency
Direct Sequence Spread Spectrum (DSSS) RF technology
Wireless transmission range up to 50 m (Line of Sight)
Built-in chargeabel Li-ion battery
Battery charge cycle: 30 days (3 second Tx Interval)
Hardware Specifications
Wireless

Modulation

OQPSK (Offset Quadrature Phase-shift Keying)

Spread Spectrum

DSSS (Direct-Sequence Spread Spectrum)

RF Channels

16

Transmission Power

16±1dBm (Default) / 17dBm (Max.)

Wireless frequency

2.4GHz

Antenna

2.4GHz-3dBi PCB Directional Antenna

Transmission Range (Line of Sight,LOS)

50 m (Typical)

LED Indicators

Press/ Help / Low battery power

1 LED, Red

EMS Protection

ESD

±4 kV Contact for Screw

EFT (IEC 61000-4-4)

±1 KV for Power

Power

Required Supply Voltage

Rechargeable Li-ion battery

Charge Interface

Micro USB

Battery Usage Life

30 days (3 second Tx Interval)

Mechanism

Dimensions (L x W x H, mm)

90mm x 58.5mm x 8.5mm

Installation

Hook

Environmental

Operating Temperature

-20 ~ +60°C

Storage Temperature

-10 ~ +35°C

Relative Humidity

10 ~ 75% RH(Non-condensing)
Ordering Informations
| | |
| --- | --- |
| WLS-T11 CR | Charging Card Type Wireless Locating System Transmitter with Help Button (RoHs) |