WLS-T02 is a 2.4GHz wireless transmitter (called Tag) by battery supported, it can broadcast automatically 2.4GHz wireless location packages to WLS-R01. WLS-T02's wireless frequency use ISM 2.4GHz global common frequency band total have 16 channels, the range of 16 channels are 2.405GHz to 2.48GHz, it can separated into 5MHz segments, and WLS-T01 supports 16 sectors of RF power setting. The user can use the button to adjust the above settings.
In addition, WLS-T02 supports a buzzer, low battery power indicator, and built in Node ID, 3dBi directional PCB antenna and other user-friendly design can effectively reducing the size for the user to hook it on an equipment, and users can remote enabling the buzz function to find the equipment quickly.
The wireless transmission range (line of sight, LOS) of WLS-T02 is 100 meters, and WLS-T02 uses low power consumption design architecture, when the user installs a CR-123A battery (3.0 VDC) and the wireless transmission interval is 3 seconds, operating temperature in +20℃ to +60℃, the use of time can be up to 1 years, if battery will low power, the user can change the new battery by himself, so WLS-T02 very suitable for use in item tracking, personnel movements in hazardous areas, factory regional management and other applications.
Description
Applications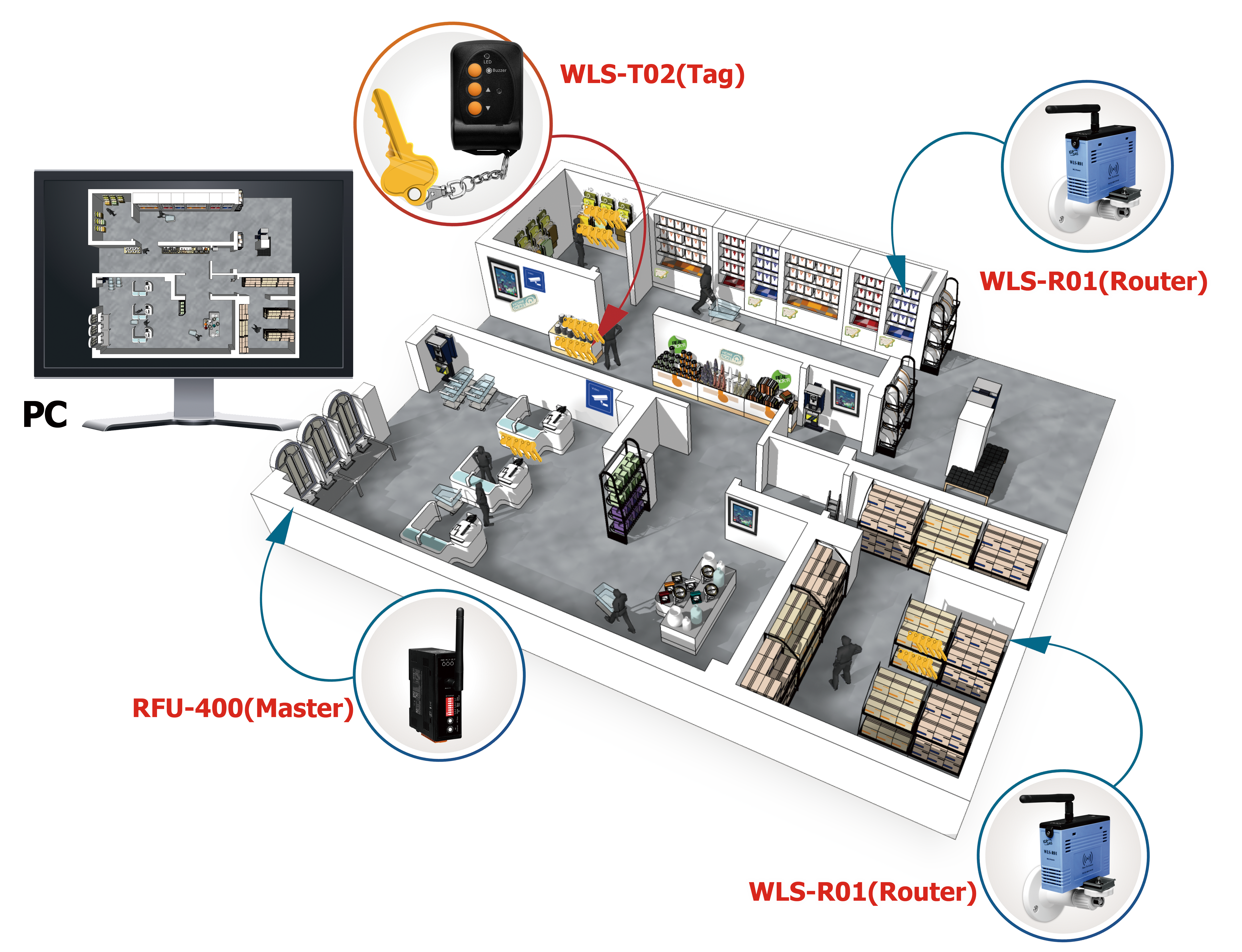 Features
Supports 16 segments setting of RF channels
Supports 16 segments setting of RF power
Built in a buzzer and supports remote enabling buzz function
Built in battery low power LED indicator
Built in 2.4GHz 3dBi PCB directional antenna
ISM 2.4GHz operating frequency
Direct Sequence Spread Spectrum (DSSS) RF technology
Wireless transmission range up to 100 m (Line of Sight)
Low power consumption design(1 pcs CR123A battery, when operating
temperature from +20° C~+60° C, it can be used 1 years)
Hardware Specifications
Wireless

Modulation

OQPSK (Offset Quadrature Phase-shift Keying)

Spread Spectrum

DSSS (Direct-Sequence Spread Spectrum)

RF Channels

16

Transmission Power

16±1dBm (Default) / 17dBm (Max.)

Wireless frequency

2.4GHz

Antenna

2.4GHz-3dBi PCB Directional Antenna

Transmission Range (Line of Sight,LOS)

100 m (Typical)

Hardware

Key configuration

Key of disable buzz x 2, buzzer x 1

Buzzer volume

55dB@10cm

LED Indicators

Pressing the button

1 LED, Green

Help / Low battery power

1 LED, Red

EMS Protection

ESD

±4 kV Contact for Screw

EFT (IEC 61000-4-4)

±4 kV for Power

Power

Required Supply Voltage

+2.6 VDC ~ +3.6 VDC

Battery Input

1 x CR123A (3.0 VDC)

Power Consumption

Buzzer no buzz: 267uW@3VDC / 2.13mAh@1 Day (3 second Tx interval)
Buzzer buzz: 90mW@3VDC / 30mAh@1 hour (3 second Tx interval, and 1 second buzz interval)

Mechanism

Dimensions (L x W x H, mm)

70mm x 43mm x 21mm

Installation

Hook

Environmental

Operating Temperature

-25 ~ +70°C (No battery included)
-25 ~ +60°C (Battery included)

Storage Temperature

-30 ~ +80°C (No battery included)
-20 ~ +45°C (Battery included)

Relative Humidity

45 ~ 85% RH(Non-condensing, No battery included)
20 ~ 65% RH(Non-condensing, Battery included)
Ordering Informations
| | |
| --- | --- |
| WLS-T02 CR | Battery Standard Type Wireless Locating System Transmitter with the Buzzer (RoHs) |