| | |
| --- | --- |
| Wireless 8-channel Analog Input Module with High Voltage Protection | |
The ZT-2017 is a wireless 16-bit, 8-channel differential analog input ZigBee module that provides a programmable input range on all analog channels (±150 mV, ±500 mV, ±1 V, ±5 V or ±10 V). Each analog channel can be configured for an individual input range and has a high 240 Vrms overvoltage protection. Users can easily to configure the module address, protocol, checksum, ZT-PID, ZT-channel and type code settings using a combination of rotary and DIP switches.
Description
Applications
Building Automation, Factory Automation, Machine Automation, Remote Maintenance, Remote Diagnosis, Testing Equipment.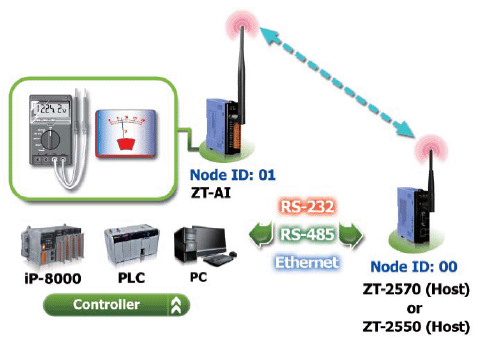 Features
ISM 2.4 GHz Operating Frequency
Fully Compliant with 2.4 G / ZigBee Specifications
Wireless Transmission Range up to 700 m
GUI Configuration Software (Windows Version)
8 Differential Analog Input Channels (mV, V)
Individual Channel Configuration
Overvoltage Protection up to 240 Vrms
±4 kV ESD Protections (Conact for each Terminal)
DIN-Rail Mounting
I/O Specifications
Analog Input

Input Channels

8 Differential
Input Types
±10 V, ±5 V, ±1 V, ±500 mV, ±150 mV ±20 mA, 0 ~ 20 mA, ±20 mA, 0 ~ 20 mA or 4 ~ 20 mA
(Current Input Requires Optional External 125 Ω Resistor)
Resolution

16-bit

Sampling Rate
16-bit, 10 Samples/Sec. (Total)
Accuracy
±0.1% of FSR
-3dB Bandwidth
15.7 Hz
Common Mode Rejection
86 dB
Normal Mode Rejection
100 dB
Input Impedance
>2 MΩ
Overvoltage Protection
240 Vrms
Individual Channel Configuration
Yes
Intra-module Isolation, Field-to-Logic
3000 V

DC
System Specifications
Communication Interface

Wireless Standards

ZigBee 2007 Pro
Transmission Power
11 dBm (FCC Certificated) (Max. 19 dBm)
Antenna
2.4 GHz – 5 dBi Omni-directional Antenna
Transmission Range (LoS)
700 m (Typical)
Certification
FCC/FCC ID, CE (RED excluded)

Max. Slaves in a ZigBee Network

255
ZB-100R/ZB-100T Support
–
Protocols
Supports DCON and Modbus RTU Protocols
Dual Watchdog
Yes, Module (1.6 Seconds), Communication (Programmable)
LED Indicators
Power
1 LED, red
ZigBee Communication
1 LED, green
Power

EMS Protection

ESD, Surge, EFT
Input Voltage Range
+10 V

DC

 ~ +30 V

DC

Power Consumption
Max. 1.4 W
Mechanical
Flammability
Fire Retardant Materials (UL 94V-0 Level)
Dimensions (L x W x H)
87 mm x 33 mm x 110 mm
Installation
DIN-Rail
Environment
Operating Temperature
-25 °C ~ +75 °C
Storage Temperature
-30 °C ~ +80 °C
Relative Humidity
10 ~ 90% RH, Non-condensing
Ordering Informations
| | |
| --- | --- |
| ZT-2017 CR | Wireless 8-channle Analog Input Module with High Voltage Protection (ZigBee Router) (RoHS) |