 The WF-2017 is a Wi-Fi interface and 8-channel Differential/16-channel Single-Ended analog input module. The analog input range is software selectable and supports +/-10V, +/-5V, +/-1V, +/-500mV, +/-150mV, and +/-20mA. Differential and Single-ended mode is selected by jumpers. In addition, the WF-2017 has WLAN connection complies with the IEEE802.11b/g standards. With the popularity of 802.11 network infrastructure, the WF-2017 makes an easy way to incorporate wireless connectivity into monitoring and control systems. The WF-2017 also supports Modbus/TCP and UDP protocols and the network encryption configuration, which makes perfect integration to SCADA software and offer easy and safe access for users from anytime and anywhere.
Description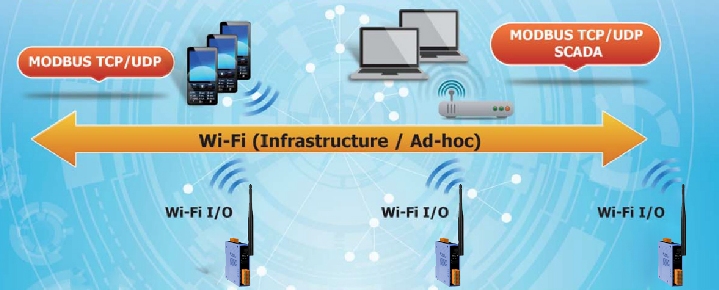 Applications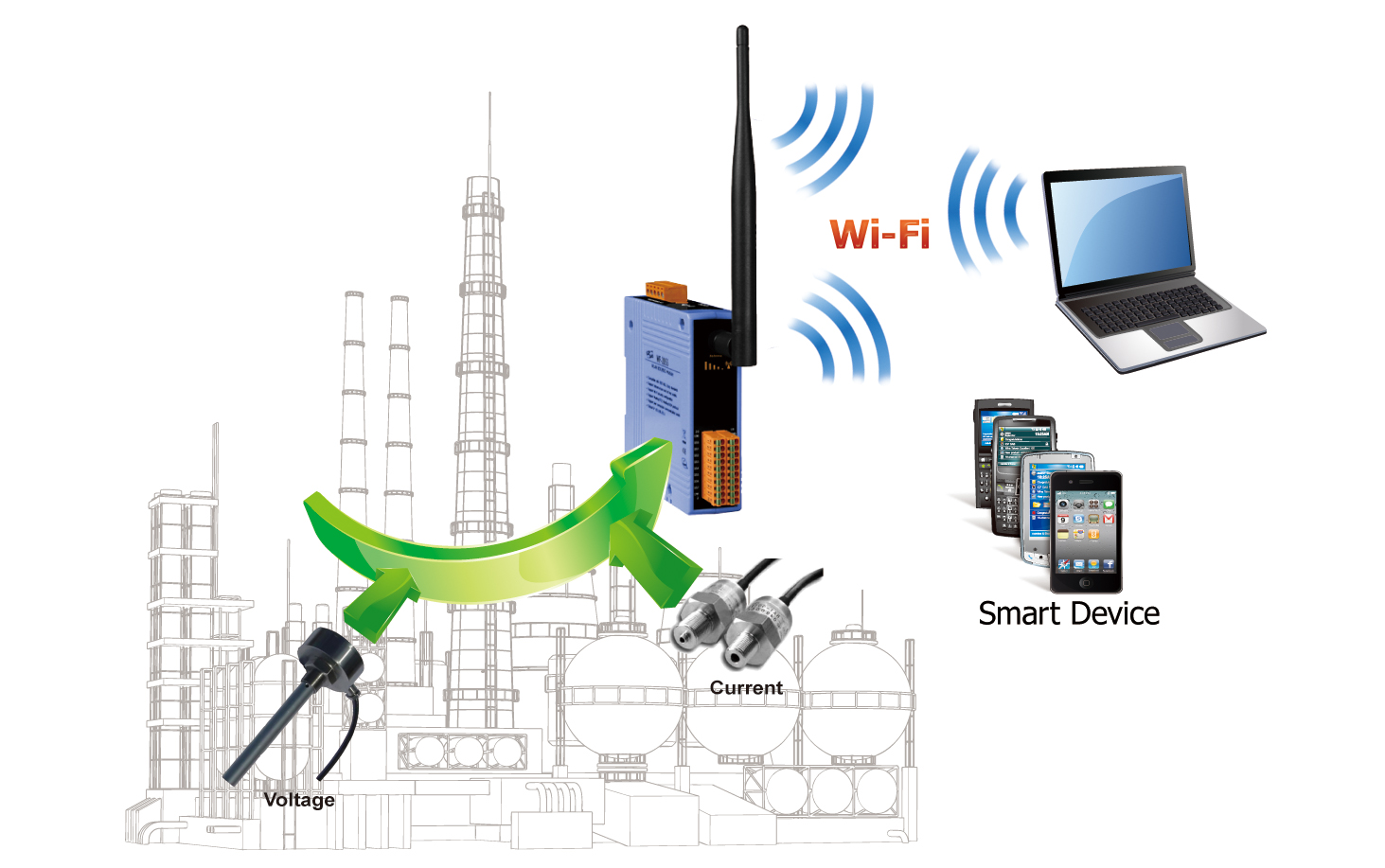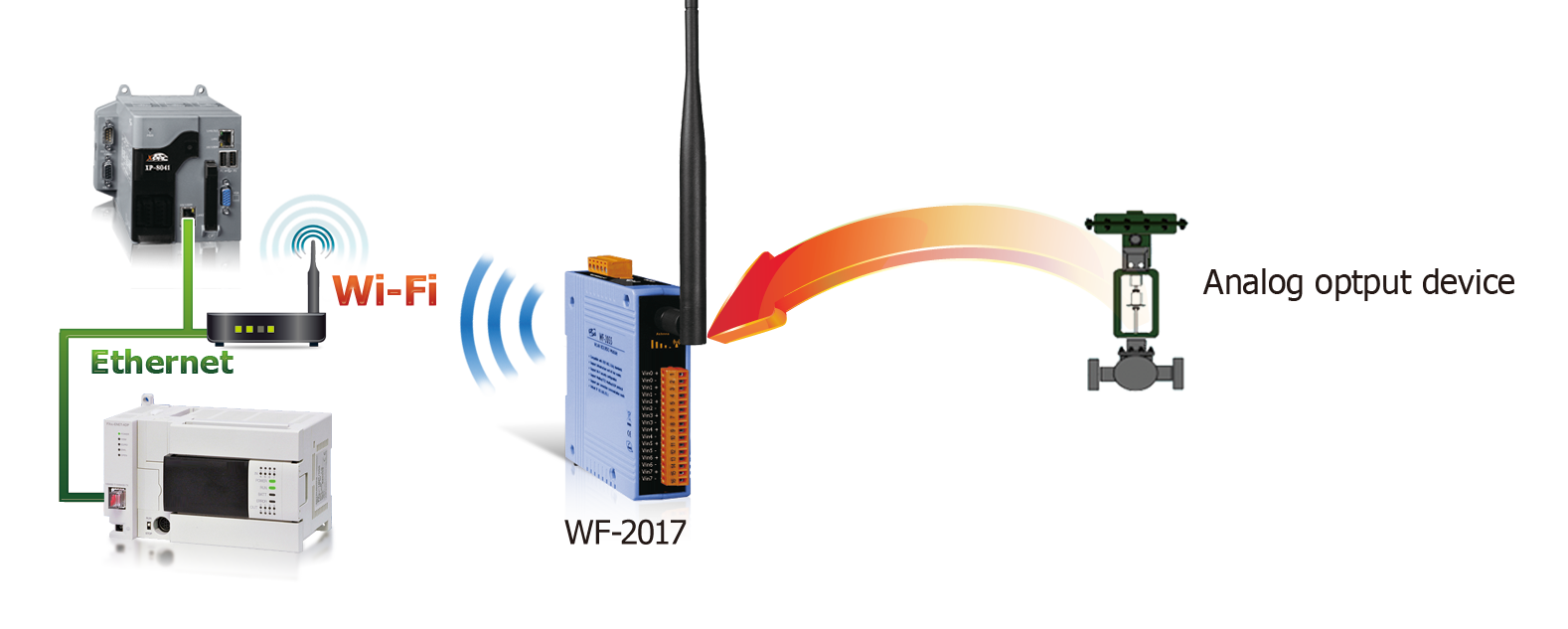 Features
8-channel Differential Analog Input
16-channel Single-ended Analog Input
Compatible with IEEE 802.11b/g standards
Support WEP, WPA and WPA2 wireless encryption
Support Modbus/TCP and UDP protocols
Support DHCP network configuration
Wide Operating Temperature Range
4 kV ESD Protection
Built-in Watchdog
Hardware Specifications
Analog Input
Channels
8-ch Differential / 16-ch Single-ended

 

(Note),

 

(Jumper Selectable)

Input Type
Voltage : ±150 mV, ±500 mV, ±1 V, ±5 V, ±10 V
Current : 0 ~ +20 mA, +4 ~ +20 mA, ±20 mA (Jumper Selectable)
Resolution
16 bit
Accuracy
±0.1% FSR
Sampling Rate
10 Hz (Total)
Zero Drift
±20 μV/°C
Span Drift
±25 ppm/°C
Common Mode Rejection
86 dB Min.
Normal Mode Rejection
100 dB
Input Impedance

Differential

2 MΩ

Single-ended

1 MΩ

Overvoltage protection

240 Vrms

150 Vrms

Individual Channel Configuration
Yes
Wi-Fi Interface
Antenna
5 dBi (Omni-Directional)
Output Power
8 dBm @ 11Mbps
Receive Sensitivity
-83 dBm @ 11Mbps
Standard Supported
IEEE 802.11b/g
Wireless Mode
Infrastructure & Ad-hoc

Certifications

CE/FCC, FCC ID
Encryption
WEP, WPA and WPA2
Transmission Range
50 meters (LOS)
Isolation
Intra-module Isolation, Field-to-Logic
3000 VDC
Power
Input Voltage Range
10V ~ 30V
Power Consumption
2.2W
Mechanism
Installation
DIN-Rail
Dimensions
33mm x 106mm x 120mm (W x L x H)
Environment
Operating Temperature
-25°C ~ +75°C
Storage Temperature
-30°C ~ +80°C
Humidity
10% ~ 90%
Note: Differential mode can be used for voltage input and current input. Single-Ended mode can be used for voltage input only.
Ordering Informations
| | |
| --- | --- |
| WF-2017 CR | 8-channel Differential/16-channel Single-Ended Analog Input Wi-Fi I/O Module (RoHS) |