The RTU-140 product is the cost-effective small M2M 4G terminal solution. This series of products is an intelligent 4G remote terminal device module with built-in high-performance 32bit computing unit for harsh industrial environments. It has 1 set of 4G modules, 1 set of GPS modules, 1 RS-485, 1 Micro SD slot and 1 Micro USB interface for setting. The RTU-140 product allows three Modbus RTU devices to be connected in series via one RS-485 interface, and the I/O and GPS data are actively transmitted to the remote M2M through 3G/4G through the custom RTU protocol. RTU Center platform. ICP DAS also provides related software software including M2M RTU Center, M2M RTU Win32 API library and OPC server for RTU devices, so that customers can quickly establish monitoring programs.
In addition to the above functions, the RTU-140 also supports RTU Center related monitoring functions. It also has the function of I/O data logger, which can store I/O and GPS data in Micro SD card. The external and lithium battery connection interface is provided at the input of the power supply. After the external power supply is interrupted, the RTU-140 series can also operate for a period of time for emergency processing.
Description
Applications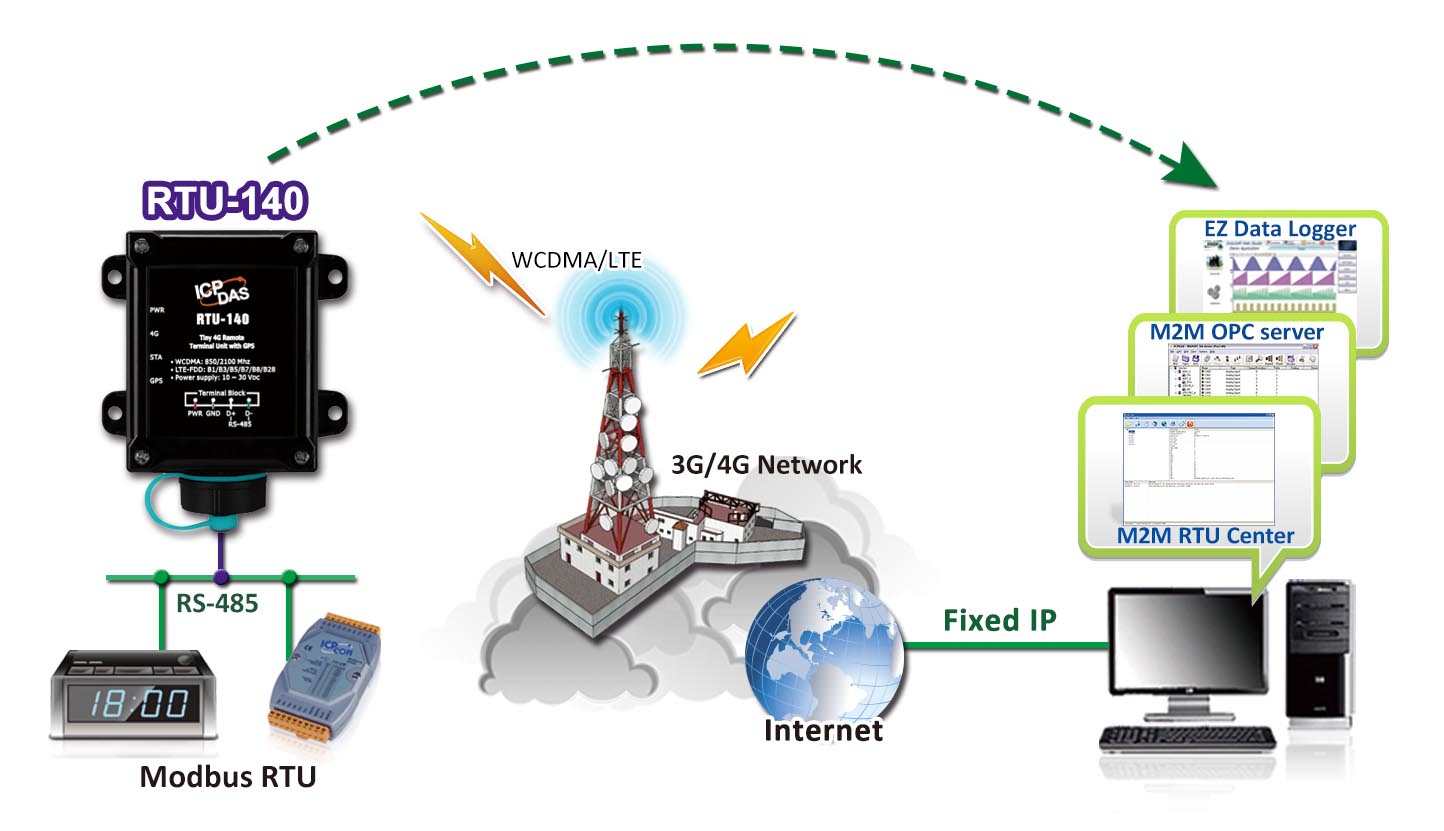 Features
Support for UMTS/HSPA+850/2100 MHz
Support LTE-FDD B1/B3/B5/B7/B8/B28
Automatic / continuous 3G / 4G connection management
Supports Modbus RTU master communication protocol, allowing three ModBus RTU devices to be connected in series via one RS-485 interface
Provide OPC Server software and centralized data management
Can be used as I/O and GPS data logger, data stored in micro SD card
Micro SD capacity support up to 4GB
1 set of Micro USB (for setting), 1 set of RS485, 1 set of GPS
Provide 3.7V lithium battery backup power interface
Software Solutions
The M2M RTU center software with friendly Graphic interface is to manage the WCDMA/GPRS RTU products easily. Users can monitor the I/O data and status of WCDMA/GPRS RTU devise by the interface on PC. By using the M2M RTU API tool and M2M RTU center software, any remote monitoring system can be achieved easily and efficiently. For SCADA system, the M2M.OPC server is provided to connect to SCADA by OPC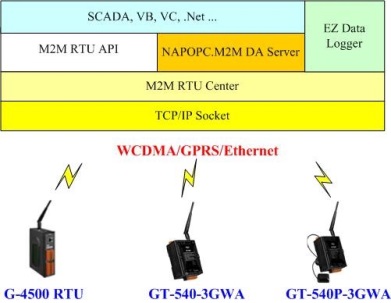 Easy to Establish GPRS Network Applications
It is a big headache for engineers to establish the WCDMA/GPRS applications because the dynamic IP management is required. Applying RTU-140 and M2M RTU center software, the dynamic IP addresses can be managed between them. The remote WCDMA/GPRS RTU product would connect to M2M RTU Center automatically. Therefore, all remote WCDMA/GPRS RTU devices can be managed by s single centralized M2M RTU Center software with a fixed IP address. Moreover, there are M2M API tool and OPC server for engineers to develop the WCDMA/GPRS applications by VB, VC or SCADA development tools conveniently without any IP address management effort.
Active data transmission
RTU-140 with active I/O transmission mechanism can raise the communication. Unlike the traditional poll communication, it would transfer the data by the defined time, DI trigger or AI hi/lo alarm. In addition to improve the way of communication, that can also reduce the AP effort.
Modbus RTU device connectivity
RTU-140 is built-in Modbus RTU protocol. That can make any Modbus RTU device connect to RTU-140. By the way of RTU-140, Modbus RTU devices can be used in WCDMA/GPRS remote system. The max Modbus RTU device can be connected to RTU-140 is three.
Built-in I/O Data Logging
RTU-140PM provides an external SD interface. These local I/O and Modbus data are recorded in SD memory card for one day in a single file.
Provide 3.7V lithium battery backup power interface
In addition to the external power supply of 10 ~ 30 VDC, the RTU-140 series can also be used with a 3.7V lithium battery for emergency use when power is off. ICP DAS does not provide lithium batteries for customers to purchase, the battery specifications are Nikon battery ENEL5.
Hardware Specification
System
CPU
32 bit CPU
SD interface
4GB max
Serial Ports

Utility port

Micro USB:for configuration only

COM1

RS-485:D+, D- for Modbus RTU device connectivity

3G System

Frequency Band

UMTS/HSPA+ 850/2100 MHz

4G System

Frequency Band

LTE-FDD B1/B3/B5/B7/B8/B28

GPS Interface

GNSS

GPS+GLONASS

Sensitivity

Tracking = up to -165 dBm;

Acquisition = up to -148 dBm

Acquisition Time

Cold / Warm / Hot Start Time:35 / 30 / 1 sec. at open sky and stationary

Protocol Support

Power

Protection

Power reverse polarity protection

Frame Ground Protection

ESD, Surge, EFT, Hi-Pot

Power input range

+10VDC ~ +30VDC.; 4W

Backup power supply

3.7V Li-battery

Power Consumption

Sleep: 0.1W(24 mA @ 4VDC)
Idle:1.2~0.6W( 300~150 mA @ 4 VDC)

Mechanical

Casing

Dimensions

94 mm x 82 mm x 55 mm (long*width* high)

Waterproof Level

IP66

Installation

DIN-Rail; Wall mount

Environment
Operating Temperature
-25 ℃ ~ +75 ℃
Storage Temperature
-30 ℃ ~ +80 ℃

Humidity

5 ~ 95% non-condensing
Ordering Informations
| | |
| --- | --- |
| RTU-140 | 4G remote terminal device |