I-7565-DNM can represent an economic solution of DeviceNet application and be a DeviceNet master device on the DeviceNet network. It is a "Predefined Master-Slave connection Set". I-7565-DNM supports Group 2 only Server and UCMM functions to communication with slave devices. It has an independent CAN bus communication port and has the ability to cover a wide range of DeviceNet applications. Besides, I-7565-DNM uses the new CAN controller Phillips SJA1000T and transceiver 82C250, which provide bus arbitration, error detection with auto correction and re-transmission function.It can be installed on almost any windows-based system, for example Win98/Win2000/WinXP. It is popularly applied in the industrial automation, building automation, vehicle, marine, and embedded control network. In order to expand the DeviceNet functions of ICPDAS products, I-7565-DNM is developed for this purpose.
Description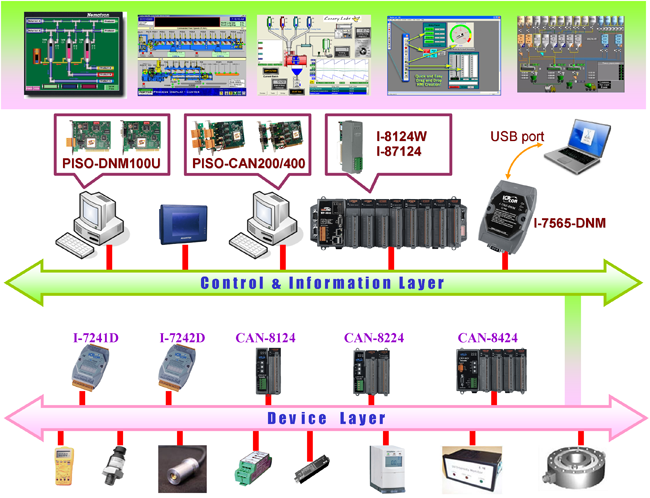 Applications

Hardware Features
Fully compliant with USB 1.1/2.0(Full Speed)
No external power supply is required as I-7565 takes it's power from the USB bus
DeviceNet Version: Volume I & II, Release 2.0
Programmable Master MAC ID and Baud Rate.
Baud Rate: 125k, 250k, 500k
Support Group 2 and UCMM connection
I/O Operating Modes: Poll, Bit-Strobe, Change of State / Cyclic
I/O Length: 512 Bytes max (Input/Output) per slave
Slave Node : 63 nodes max
Support Auto-Search slave device function.
Support on-line adding and removing devices
Support Auto-detect Group 2 and UCMM device
Auto-Reconnect when the connection is broken
Status LED: RUN, MS, NS
Free Software development tools for Windows
Windows XP/ Win7/ Win8/ Win10 32-bit and 64-bit drivers supported
Linux drivers supported

Firmware Features
Programmable Master MAC ID
Programmable transfer-rate 125K, 250K, 500K
Each port support maximum nodes up to 64
Support Group 2 Only Server functions
Support UCMM functions
Predefined Master-Slave Connection Set
The maximum Fragment number is (Input/Output) up to 64
Support I/O Operation Mode: Poll, Bit-Strobe and Change Of State/Cyclic
Support Auto-Scan slave device function
Support on-line adding and removing devices
Support Auto-Reconnect when the connection is broken
We have communicated with the following DeviceNet slaves
Allen-Bradley PowerFlex series DeviceNet Inverters
BECKHOFF CX1500-B520 series DeviceNet I/O modules
BECKHOFF BK5250 series DeviceNet I/O modules
MKS 683 series DeviceNet exhaust throttles
MKS MFC (Mass Flow Controller) series DeviceNet devices
MKS DELTA II FRC (Flow Ratio Controller) DeviceNet devices
MKS DC Power Generator (OPT- xxx) DeviceNet devices
OMRON DRT1-ID/ODxx series DeviceNet I/O modules
OMRON DRT2-MDxx series DeviceNet I/O modules
COSMOS PS-7 series DeviceNet gas detectors
CELERITY UNIT IFC-125 series DeviceNet devices
Allen-Bradley PowerFlex AC Drives
Allen-Bradley PowerFlex AC Drives with DriveLogix
Allen-Bradley PowerFlex DC Drives
OMRON DRT2-ID08(-1)/MD16
OMRON DRT2-OD08/MD16-1
OMRON DRT2-OD08-1
OMRON DRT2-ID16(-1)/OD16(-1)
OMRON GRT1-DRT
OMRON C200HW-DRT21
Swagelok MS-VCM-D-6-0, MS-VCM-D-6-2 DeviceNet Valve
Swagelok SS-PTX-D-G500-S4-K DeviceNet Transducer

Swagelok SS-PTX-D-G500-SM-K DeviceNet Transducer
Weidmueller SAI-AU M12 DN 16DI/8DO
Weidmueller SAI-AU M12 DN GW 16DI
Weidmueller SAI-AU M12 DN AI/AO/DI
ADVANCED ENERGY Apex RF generators and power-delivery
SMC ITV series Electro-Pneumatic Regulator
SMC Directional Control Valves
SICK DME5000 series Distance Sensor
MTS Temposonics R-Series Position Sensors
PFEIFFER VACUUM HiPace series turbopumps
Allen-Bradley(AB) 1769-ADN DeviceNet Adapter
MKS Type T3B and T3P Valves With DeviceNet Interface
ABB DSQC 350A DeviceNet/Allen Bradley remote gateway
MTS Temposonics R-Series sensor
MKS MicroNode I/O series module
LINCOLN Power Wave AC/DC 1000 device
Festo CTEU-DN Bus nodes
MKS Baratron Type DMB Capacitance Manometer
Sevenstar CS200/CS220 Mass Flow Controller
Allen-Bradley(AB) E3 & E3 Plus Solid-State Overload Relay
RF/MW Generators of DAIHEN
KEYENCE NU-DN1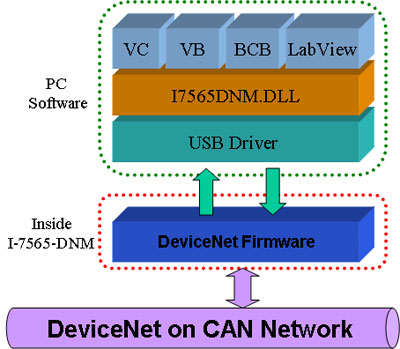 Software Utility Features
Diagnosis
This utility supports to search all devices and specific devices in the network. These functions help the users to configure the connection of the slave devices. Anymore, the software also can diagnose the remote slave devices when building the DeviceNet network.
Configuration
This software supports the users to configure the I/O connection of the devices by searching devices or manual setting. After configuring the I/O connection, the information would be saved into the EEPROM of the I-7565-DNM. The users can export the data from the EEPROM easily. Correspondingly, the users can import the data into the EEPROM.
The software utility can easily to access the I/O data of all the slave devices. The users can monitor the input data of the specific slave device and change the output data to the remote slave device with this utility.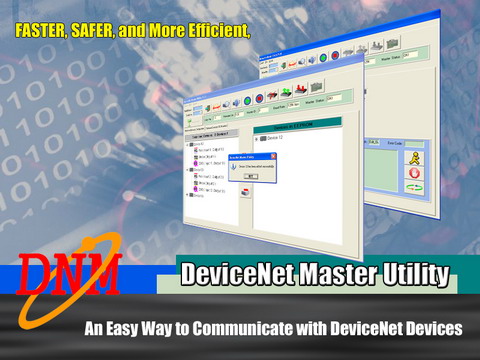 DeviceNet for LabVIEW Application Tool
In order to develop complex DeviceNet applications, we provide a LabVIEW driver for this purpose. The I-7565-DNM LabVIEW driver is the function reference to the DeviceNet master. We provide many useful VI functions in the LabVIEW environment. We also have the "DeviceNet Master Utility" to configure the DeviceNet hardware in your PC. The users not only operate easily and develop application rapidly, but also reduce the complexity of applications. The users can communicate with the remote DeviceNet devices in a few simple steps and need not to know about the detail of the DeviceNet protocol. It is the best tool to develop various distributed systems and other industrial applications software on DeviceNet network.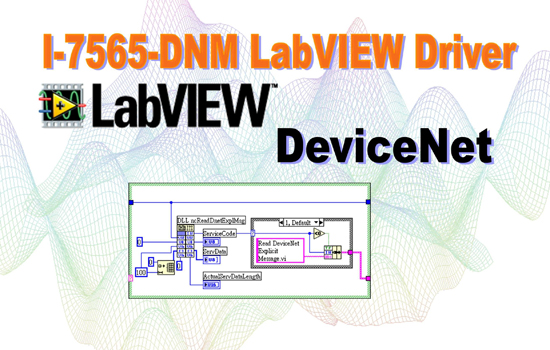 Hardware Specifications
Hardware

CPU

80186, 80 MHz or compatible

SRAM/Flash/EEPROM

512 KB / 512 KB / 16 KB

ESD Protection

2 kV class A

CAN Interface

Controller

NXP SJA1000T with 16 MHz clock

Transceiver

NXP 82C250

Channel number

1

Connector

9-pin male D-Sub (CAN_GND, CAN_L, CAN_SHLD, CAN_H, CAN_V+, N/A for others)

Baud Rate (bps)

125 k, 250 k, 500 k

Transmission Distance (m)

Depend on baud rate (for example, max. 1000 m at 50 kbps )

Isolation

3000 V

DC

 for DC-to-DC, 2500 Vrms for photo-couple

Terminal Resistor

Jumper for 120 Ω terminal resistor

Specification

ISO-11898-2, CAN 2.0A and CAN 2.0B

Protocol

DeviceNet Volumn I ver2.0, Volumn II ver2.0

USB Interface

Connector

USB Type B

Transmission speed

921.6 kbps

Specification

USB 1.1 and USB 2.0

LED

Round LED

PWR LED, RUN LED, NS LED, MS LED

Software

Driver

Win XP/ Win7/ Win8/ Win10 32-bit and 64-bit , Linux driver

Library

x64 DLL, .NET DLL, VB6 bas, VC6 DLL, BCB6 DLL

Power

Power supply

By USB interface

Power Consumption

3 W

Mechanism

Installation

DIN-Rail

Dimensions

72mm x 101mm x 33mm (W x L x H)

Environment

Operating Temp.

-25 ~ 75 ℃

Storage Temp.

-30 ~ 80 ℃

Humidity

10 ~ 90% RH, non-condensing
Hardware Structure
Pin Assignment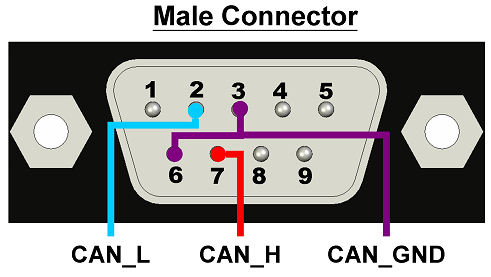 Performance Test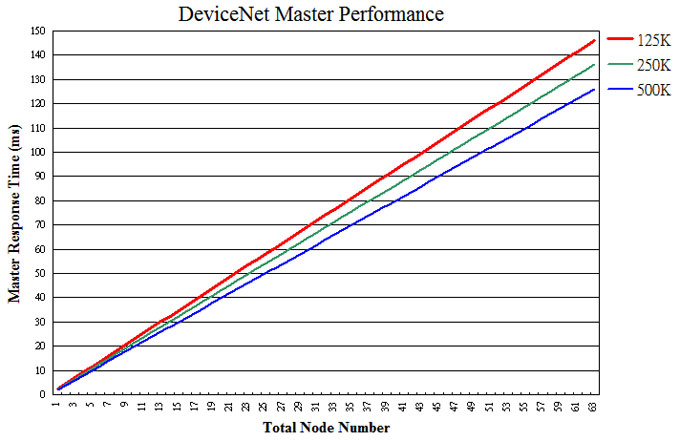 Ordering Informations
| | |
| --- | --- |
| | USB/DeviceNet Master communication Converter with D-sub 9-pin connector |