The I-7565-CPM. It's a standard CANopen protocol and build-in a cpu of 80186 80MHz to run I-7565-CPM firmware independently. I-7565-CPM provides a set APIs that will be easy programr to controll device by user. And it will resoult the problem of anxiety and complexity of protocol for user. it can communication between computer and I-7565-CPM's USB interface to remote the device easily and fastily, Due to I-7565-CPM has a interface of usb, so it become a move-station to create the CANopen system effectively. More infomation please to refer to web side.
Description
Applications
Industrial Machinery
Laboratory Equipment & Research
Restaurant Appliances
Maritime
Medical
Specialty Vehicles…etc.

Features
Follow CiA 301 v4.02
Support EDS File
Support 8 kinds baud: 10Kbps, 20Kbps, 50Kbps, 125Kbps, 250Kbps, 500Kbps,
800Kbps, and 1Mbps
Support Node Guarding and Heartbeat protocol
Support NMT, PDO, SDO, SYNC and EMCY protocol
Fully compliant with USB 1.1/2.0 (Full Speed)
Support Auto-Seach slave device functions.
Support on-line adding and removing devices
Free software development tools for windows.
Four indication LEDs (Pwr, Tx/Rx, Act and Err LEDs)
Provide demos and utility
Support event trigger, such as EMCY event, Guarding event, Heartbeat event, and Slave Boot-up events
Support VC6, VB6, VB.net, and C# development
Utility
The software utility can easily to access the I/O data of all the slave devices. The users can monitor the input data of the specific slave device and change the output data to the remote slave device with this utility.
Auto-scan all the CANopen master devices that the CPMUtility has supported
Auto-scan all the CANopen slave devices on the CANopen network
Support EDS file
Dynamic PDO object setting easily
Guarding Event and Heartbeat Event detection
EMCY message receiving
Maximum 5 SYNC message producers per CANopen master
Support PISO-CPM100(U), I-8123W, I-7565-CPM for version 2.00 later
Support OS: WinCE5.0/6.0, and Win2K/XP/Vista/Win7/Win10 with 32-bit system
support demo of CAN-2000C series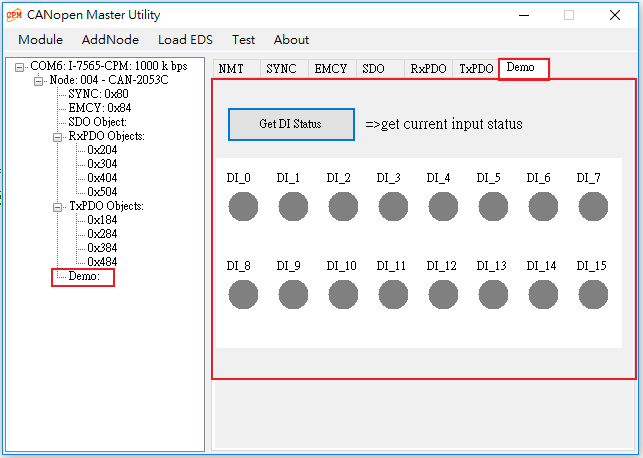 CANopen Motion Library (CiA 402)
The PISO-CPM100U provides the motion control library now. This library follows the CANopen standard CiA 402. It is available on the Windows 2000/XP/Vista or Win 7(32-bit version) operation system. The CiA 402 is one kind of the standard CANopen application profiles, and specially designed for motion control systems. In addition to making the management of the CANopen motors easy, this communication protocol can reduce the wire connection between the controller and motors, and provide rapid troubleshooting functions. With the PISO-CPM100U and CANopen Motion Library, you can do various motion control functions, such as position control, velocity control, toque control, and synchronous action without having the background knowledge of the complex and abstruse CANopen protocol. The CANopen Motion Library is able to link many CANopen motors so that the multi-axis motion control by one host becomes reachable. While controlling motors, you can also use the APIs of the PISO-CPM100U library to access CANopen remote I/O modules which follows the CiA 401 at the same time. Therefore, building a motion control application becomes more easy and convenient.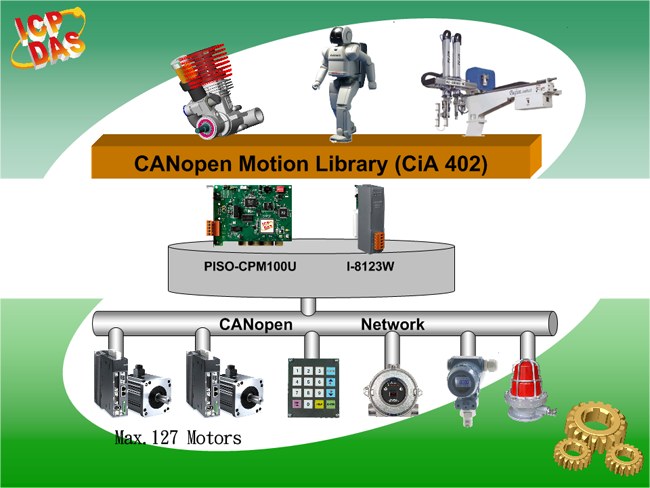 Feature:
Compliant with CiA 402 v1.1

Reduce 50% wires connection cost

Physical layer with fault tolerance and anti-noise

Support max. 127 motors in one network

Absolute and relative position control

Velocity control

Torque control

JOG control

Support max. 127 motors synchronous action

Various Homing control

Support torque limitation with CANopen command


Support Win 2000/XP/Vista or Win 7(32-bit version)
Hardware Specifications
Hardware

CPU

80186, 80MHz.

SRAM/Flash/EEPROM

512KB / 512KB /16KB

ESD Protection

2 kV class A and 3 kV class B

CAN Interface

Controller

NXP SJA1000T CAN Controller

Transceiver

NXP 82C250 CAN Transceiver

Interface

ISO/IS 11898-2, 9-pin male D-Sub(GAN_GND, CAN_L, CAN_SHLD, CAN_H, CAN_V+, N/A for others)

Transfer Rate

Support 10k, 20k, 50k, 125k, 250k, 500k, 800k, 1M bps

Specific

Follow CiA 301 V4.02

USB Interface

Connector

USB Type B

Transmission speed

921.6 kbps

LED

Round LED

PWR LED, ACT LED, ERR LED, Tx/Rx LED.

Software

Driver

Windows 98/ME/NT/2K/XP/Vista/Win7/Win10 and Linux

Library

VC++6.0, VB6.0, C#.net, VB.net

Power

Power supply

By USB interface.

Mechanism

Dimensions

72mm x 101mm x 33mm (W x L x H)

Environment

Operating Temp.

-25 ~ 75 ℃

Storage Temp.

-30 ~ 80 ℃

Humidity

10 ~ 90% RH, non-condensing
Hardware Structure
Pin Assignment
Ordering Informations
| | |
| --- | --- |
| | USB to CANopen Master Converter |