TThe I-7188EX, Embedded Internet/Ethernet Controller, focuses in Embedded Control applications while the I-7188EN, Internet Communication Controller, focuses in communication applications. According to different embedded firmware and application program, the Internet Communication Controller can be used as Device Server or Addressable Ethernet to RS-232/485/422 Converter or Embedded Internet/Ethernet Controller. The user should refer to comparison table to choose optimal product. Now we offer wide range Internet Communication Controllers, such as I-7188E1 / E2 /E3 /E4 / E5 / E8. Except the RTC circuitry, the basic hardware of I-7188EN is similar to I-7188EX. Since there are too many configurations for I-7188EN series product, OEM or ODM version is welcomed. Can be used as Addressable Ethernet to RS-232/485/422 Converter.
Most RS-232/485/422 devices don't support device address. The I-7188EN series can assign a unique address to any RS-232 device installed in the Ethernet network. Host-PC can send command with device address to Ethernet network, the destination I-7188EN will remove the address field & pass the other fields of command to its local RS-232 device. The response of this local RS-232 device will be passed to host-PC via this destination I-7188EN.
The i-7188EN series can be used as Ethernet to RS-232/485/422 Device Server. The Device Server is an appliance that network enables any device with a serial communication port. By virtue of its independent operating system, protocol independence, small size and flexibility, Device servers are able to meet the demand of virtually any network-enable application. Most devices don't have network ports. Our Internet Communication Controllers allow those devices to become connected to the network.
The hardware and software of i-7188EN is similar to i-7188EX, the i-7188EN also can be used as Embedded Internet/Ethernet Controller except the RTC (Real Time Clock). The user can use well-developed libraries and demo programs to implement an Embedded Internet/Ethernet Controller.
Description
Applications
Factory Automation
Building Automation
Home Automation
Features
AMD 80188-40 Embedded CPU, or compatible
Supports a variety of TCP/IP features, including TCP, UDP, IP, ICMP, ARP
10BASE-T NE2000 compatible Ethernet Controller
Reloadable Operating Software
Remote Configuration
Diagnostics
COM driver support interrupt & 1K QUEUE Input & Output buffer
Support serial port
Built-in EEPROM
Built-in self-tuner ASIC controller on RS-485 port
support one RS-232 port and one RS-485 port
7-segment LED display for I-7188E2D
Built-in MiniOS7
Program download port: COM1 or Ethernet Port
Hardware Specifications
CPU
CPU
80188, 40MHz or compatible
SRAM
384K bytes
Flash Memory
512K bytes
EEPROM
2K Bytes
Built-in Watchdog Timer
Yes
Communication Interface
COM1
RS-232 (TXD, RXD, RTS, CTS, GND)
COM2
RS-485 (D2+, D2-)
Ethernet Port
10BASE-T NE2000 compatible Ethernet Controller
COM Port Formats
Data Bit
7, 8
Parity
Even, Odd, None
Stop Bit
1
Baud Rate
115200 bps Max.
LED Indicators
5-Digit 7 Segment LED Display
Yes (for I-7188E2D only)
System LED Indicator
Yes
Dimensions
I-7188E5(D)
123 mm x 72 mm x 33 mm
Operating Environment
Operating Environment
-25°C to +75°C
Storage Temperature
-40°C to +80°C
Power
Protection
Power reverse polarity protection
Required Supply Voltage
+10 to +30VDC (non-regulated)
Power consumption
2W for I-7188E2
3W for I-7188E2D
Hardware Structure
Pin Assignment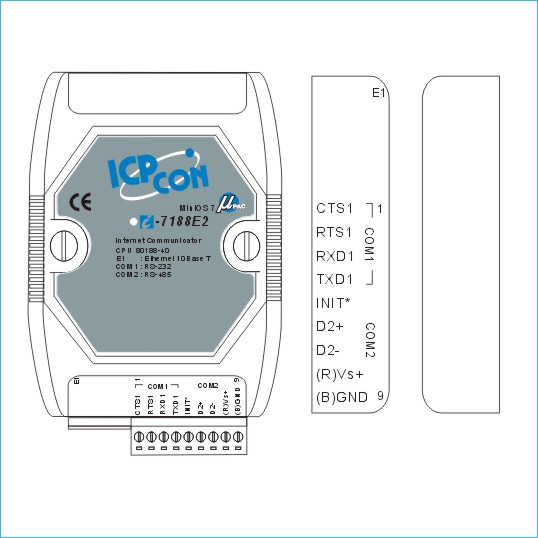 Ordering Informations
| | |
| --- | --- |
| I-7188E2 | Internet communication controller with one RS-232, one RS-485 and one Ethernet |
| I-7188E2-MTCP | I-7188E2 with default Modbus/TCP firmware |
| I-7188E2D | I-7188E2 with LED display |
| I-7188E2 CR | Internet communication controller with one RS-232, one RS-485 and one Ethernet (RoHS) |
| I-7188E2-MTCP CR | I-7188E2 with default Modbus/TCP firmware (RoHS) |
| I-7188E2D CR | I-7188E2 with LED display (RoHS) |
Datasheet