The I-7530A is an RS-232/422/485 to CAN converter. It is a member of the I-7530 serial family, and inherits all of the features of the I-7530. The CAN interface of the I-7530A follows ISO 11898-2 specifi cation, the maximum CAN baud is up to 1 Mbps. There is one COM port in the I-7530A. As the I-7530A runs, it only receives the commands from one of these COM interfaces (i.e. from the RS-232, RS-485 or RS-422 interface) at the same time, but the CAN messages will be forwarded to all of these COM interfaces.
Request For Quotation
Description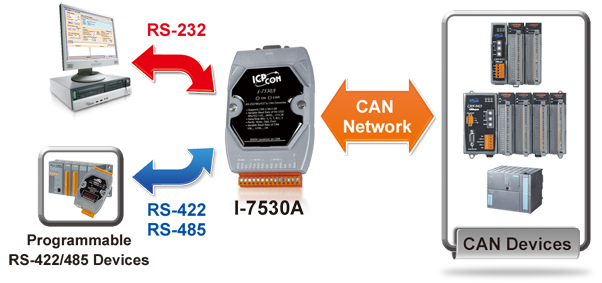 Moreover, we expand the functionalities of I-7530A for some special application. In pair connection mode, I-7530A can be used to connect PC with other RS-232/485/422 devices at the same time. The application architecture may be as follows.

3000V isolation on CAN side
The CAN port of I-7530A is an isolated with 3000V isolation. This isolation can protect the local RS-232/485/422 devices from the damage signal coming from CAN network.
Watchdog inside
The I-7530A Watchdog is a hardware reset circuit to monitor the I-7530A's operation status. When working in harsh or noisy environment, the I-7530A may be down by the external signal. The circuit may let the I-7530A to work continuously and never halt.
Power and Error indicator display
There are two indicators on the I-7530A.The power indicator can help user to check whether the I-7530A is standby or transmitting/receiving messages. The Error indicator will be turned on when some errors occur on the I-7530A.
Applications
Distributed data acquisition
Features
Compatible with CAN specification 2.0A and B
Fully compatible with ISO 11898-2 standard
Support various baud rate from 10K bps to 1M bps
Jumper for 120 Ω terminal resistor
Software configurable CAN and RS-232 /422/485 communication parameters
Power, data flow and error indicator for CAN and RS-232/422/485
Watchdog inside
Provide the transparent communication between the RS-232/485/422 devices via
CAN bus
Enable different RS-232/485/422 devices into an individual group in CAN bus network(Full-duplex communication mode of RS-232/422 devices is not supported)
3 kV galvanic isolation
2500 Vrms photocoupler isolation on the CAN side
Utility
CAN bus Baud rate configuration
CAN acceptance filter configuration
CAN 2.0A or 2.0B specific selection
RS-232/485/422 Baud rate and data bit setting
RS-232/485/422 responded selection
Easy test to transmit/receive CAN messages
Setting for I-7530A communication mode (normal mode or pair connection mode)
CAN Monitor & Datalog Tool
It has a CAN message field which can display the receiving CAN messages in Decimal or HEX mode
Can display the timestamp of each received CAN message
Users can change the display mode, up-down, down-up or stop
It can count the number of received CAN messages
Data Log : It can save the CAN message as " txt " file
Has CAN ID filter function
Can send CAN message to CAN BUS according the defined interval time
Hardware Specifications
Hardware

EEPROM

2 KB (for system information), 100,000 erase/write cycles

CAN Interface

Transceiver

NXP 82C250

Connector

9-pin male D-Sub (CAN_L, CAN_H, N/A for others)

Port Channels

1

Buad Rate

10 k, 20 k, 50 k, 125 k, 250 k, 500 k, 800 k, 1 Mbps (allow user-defined CAN baud rate)

Protection

3000 V

DC

 power protection on CAN side, 2500Vrms photo-couple isolation on CAN bus

Terminal Resistor

Selectable 120Ω terminal resistor by jumper

Support Protocol

CAN 2.0A/2.0B

Receive Buffer

1000 data frames

UART Interface

COM

RS-232/RS-485/RS-422 (can't be used simultaneously)

Connector

14-pin terminal connector
RS-232 : TxD, RxD, GND
RS-422 : Tx+, Tx-, Rx+, Rx-
RS-485 : DATA+, DATA-

Baud Rate

110, 150, 300, 600, 1200, 2400, 4800, 9600, 19200, 38400, 57600, 115200 bps

Data Bits

5, 6, 7, 8

Stop Bits

1,2

Parity

None, Even, Odd

Receive Buffer

900 data frames

Power

Power Consumption

1W

Power Requirement

Unregulated +10V

DC

 ~ +30V

DC

. Power reverse protection, Over-Voltage brown-out protection

LED

Round LED

ON LED: Power and Data Flow; ERR LED: Error

Mechanism

Installation

DIN-Rail

Dimensions

72mm x 118mm x 33mm (W x L x H)

Environment

Operating Temp.

-25℃ to 75℃

Storage Temp.

-30℃ to 80℃

Humidity

10~90% non-condensing
Hardware Structure
Wire Connection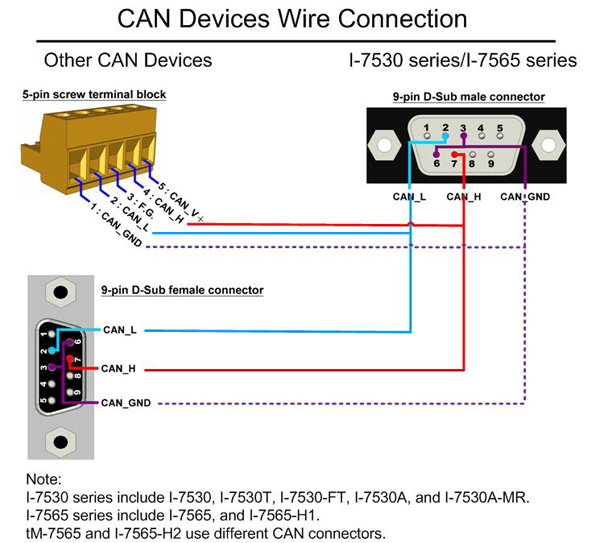 Pin Assignment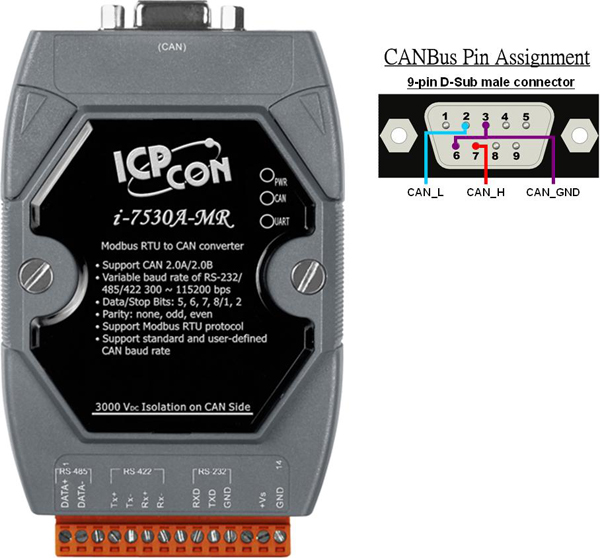 I/o Internal Structure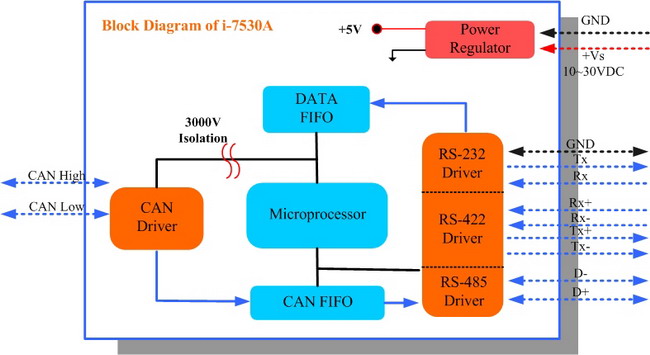 Performance Test
The test is the performance which transfer 8 bytes data frame from CAN to RS232.

CAN setting

Transfer frames

Transfer time(ms)

RS-232 setting

Receive frames

Receive time (ms)

The max frames/sec

Data<8 byes/frme

RS232 command length

2.0A 1Mbps

1,000

200

115200,n,8,1

1,000

2954

338

>=338

22 B

2.0A 1Mbps

1,000

200

115200,n,7,1

1,000

2775

360

>=360

22 B

2.0B 1Mbps

1,000

200

115200,n,8,1

1,000

3580

279

>=279

27 B

2.0B 1Mbps

1,000

200

115200,n,7,1

1,000

3337

299

>=299

27 B
The test is the performance which transfer 8 bytes data frame from RS232 to CAN.

CAN setting

Transfer frames

Transfer time (ms)

RS-232 setting

Receive frames

Receive time (ms)

The max frames/sec

Data<8 byes/frame

RS232 command length

2.0A 1Mbps

1,000,000

2,612,243

115200,n,8,1

1,000,000

2,612,243

382

>=382

22 B

2.0A 1Mbps

1,000,000

2,441,130

115200,n,7,1

1,000,000

2,441,130

409

>=409

22 B

2.0B 1Mbps

1,000,000

3,142,043

115200,n,8,1

1,000,000

3,142,043

318

>=318

27 B

2.0B 1Mbps

1,000,000

3,142,043

115200,n,7,1

1,000,000

2,966,646

337

>=337

27 B
Ordering Informations
| | |
| --- | --- |
| | Intelligent RS-232/485/422 to CAN converter (RoHS) |