The BLE-USB module is small-sized wireless Bluetooth low energy (LE) converter based on the Bluetooth 4.0 standard that allow USB interface to be converted to Bluetooth LE piconet network. The BLE-USB has two transmission modes – advertisement and connection mode. Users not only can send advertising packet in the advertisement mode but also can send connection packet in the connection mode. It supports different roles in each transmission mode. One is broadcaster and observer in advertisement mode, and the others is central and peripheral in connection mode. User can use AT command to setup the BLE-USB. The AT command not only can set role of Bluetooth LE, but also it can set some connection parameters (e.g. RF power level, broadcast parameters and slave amount).
The BLE-USB also provide slave security mechanism. The mechanism can obstruct illegal master, and the slave will ignore connection request from illegal master. In addition, ICPDAS provides software utility to easily configure and test the BLE-USB modules via USB.
Description
Applications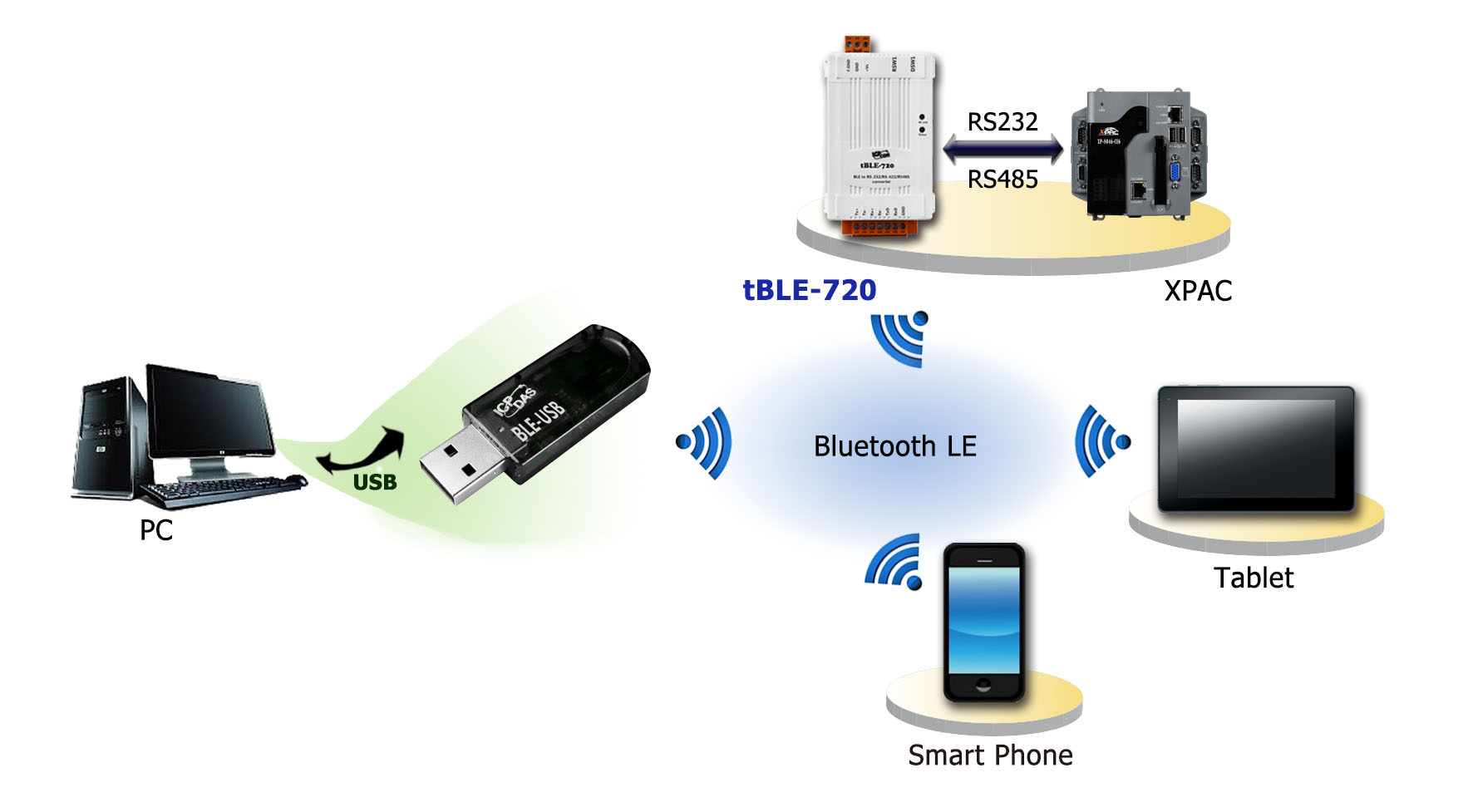 Features
Frequency: ISM 2.4 GHz
Standard: Bluetooth 4.0
Fully Compliant with the USB 1.1/2.0 (High Speed)
Baud Rate :9600~115200 bps
Operating Temperatures: -40 °C ~ +80 °C
Supports multiple connections – Max slave is 3
Supports two types of communication- advertisements and connection
Provides AT commands to setup the module
Provides status / RF link indication LEDs
GUI Configuration Software (Windows Version)
No External Power Supply and Antenna required
Utlity
ICP DAS provides the BLE-USB configuration utility for Windows OS.
Parameters configuration
Firmware upgrade
Easy test to transmit/receive
Setting files management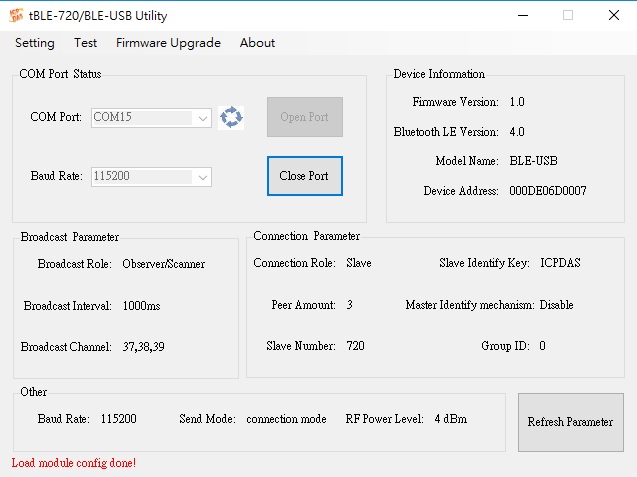 Hardware Specifications
Hardware
LED indication
Status / RF link
RF Specification
Frequency Band
2.4 GHz ISM(2402~2480 MHz)
Tx power
-20~4 dBm
Rx sensitivity
-94 dBm
Antenna type
1.0 dBi chip antenna
Transmit Range
20 m
RF data rate
85 kbps
Max. Slaves Supported
3
Bluetooth LE Interface
Version
Bluetooth 4.0
Connection Role
Central/Peripheral – connection mode
Observer /Broadcaster – broadcast mode
Communication Interface
Interface
USB 2.0
USB
Connector
Type-A Plug
Compatibility
USB 1.1 and 2.0 standard
Driver Support
Windows 98/2000/XP/Vista/7/10
WinPAC (WinCE6.0/7.0)
LinPAC (Linux kernel 3.0.0-19)
Baud Rate
9600~115200 bps
Data Format
N,8,1
Power
Operating Voltage
USB Socket Powered
Power Consumption
0.1 W(Max.)

Mechanical

Casing
Plastic
Dimensions (W x L x H)
19.8 mm x 58.4 mm x 9 mm
Environment
Operating Temperature
-25 ~ +75°C
Storage Temperature
-25 ~ +75°C
Relative Humidity
5 ~ 95% RH, Non-condensing
Ordering Informations
| | |
| --- | --- |
| | USB to Bluetooth LE Converter (RoHS) |