DL-301/DL-302/DL-303
CO/CO2/Temperature/Humidity/Dew Point Data Logger
Introduction
The DL-300 series of Data Logger devices can be used to record CO, CO2, Temperature, Humidity and Dew Point information, including date and time stamps, and are able to store up to 450,000 downloadable records.
Real-time data can be accessed from the DL-300 Data Logger from anywhere and at any time using the free Windows software, the iOS App or the Android App.
Support is provided for popular industrial protocols such as DCON, Modbus RTU, and Modbus TCP, as well as the emerging machine-to-machine (M2M)/)IoT (Internet of Things) connectivity protocol – MQTT. The DL-300 Data Logger can be connected via widely used communication interfaces including RS-485, Ethernet and PoE, meaning that the device can be easily integrated into existing HMI or SCADA systems, and is easy to be maintained in a distributed control system.
Description
Features
Simultaneous Display for CO, CO2, Temperature, Humidity and Dew Point
Measurement Range

CO: 0 ~ 1000 ppm
CO2: 0 ~ 9999 ppm

Non-dispersive Infrared (NDIR) CO2 Sensor
2.8″ LCD Touch Screen
Able to store up to 450,000 records with date and time stamps
Touch-screen and Web-based Configuration Interfaces
Free Software Utility, iOS App and Android App Included
Able to Display Multilingual Messages
Supports the DCON, Modbus RTU, Modbus TCP and MQTT Protocols
Includes RS-485/Ethernet/PoE Communication Interfaces
Relay Output for Alarm Device or IAQ Device Control
Desktop, DIN-Rail or Wall Mounting
Applications
Transportation of Food or Pharmaceuticals
Food and Beverage Industry (HACCP)
Blood Stations and Pharmacies
Building and Energy Management
Warehouse Management
Museums, Archives and Galleries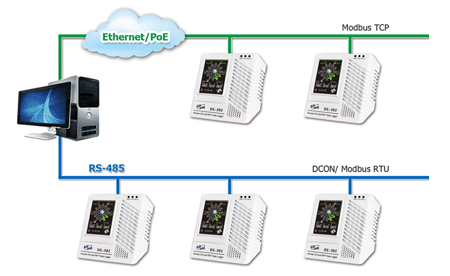 Specifications
Models
DL-301
DL-302
DL-303
CO Measurement
Range
0 to 1000 ppm (Electrochemical)
–
0 to 1000 ppm (Electrochemical)
Resolution
1 ppm
–
1 ppm
Accuracy
±5% of measured value
–
±5% of measured value
Response Time
30 seconds
–
30 seconds
Warm-up Time
300 seconds
–
300 seconds
CO2 Measurement
Range
–
0 to 9999 ppm (NDIR)
Resolution
–
1 ppm
Accuracy
–
±30 ppm ±3% of measured value
Response Time
–
20 seconds
Warm-up Time
–
60 seconds
Temperature Measurement
Range
-10 to +50°C
Resolution
0.1°C
Accuracy
±0.6°C
Relative Humidity Measurement
Range
0 to 100% RH
Resolution
0.1% RH
Accuracy
±5% RH
Dew Point
Range
Calculated using temperature and relative humidity
Resolution
0.1°C
System
CO Alarm
Yes
–
Yes

CO2 Alarm

–
Yes
Yes
Real Time Clock
Yes
Data Logger
Yes, up to 450,000 records
Relay Output
Form A×1, SPST
30 V

DC

 @ 16 A or 250 V

AC

 @ 16 A
Interface
RS-485/Ethernet/PoE
Main Machine Interface
LCD
2.8 TFT (Resolution 240 x 320 x 16), Defective Pixels <= 3
Backlight Life
20,000 hours
Brightness
160 cd/m2
Touch Panel
Yes
Electrical
Powered from Terminal Block
+12 to +48 V

DC

Powered from PoE
IEEE 802.3af, Class 1 (48 V)
Power Consumption
PoE
1.84 W (Max.)
2.65 W (Max.)
2.83 W (Max.)
Non-PoE
1.74 W (Max.)
2.14 W (Max.)
2.24 W (Max.)
Mechanical

Dimensions (L x W x H)

114 mm x 106 mm x 56 mm
Installation
Desktop, DIN-Rail or Wall Mounting
Environment
Operating Temperature
0 to +50°C
Storage Temperature
-30 to +75°C
Humidity
10 to 90% RH, Non-condensing
Function
Large 2.8″ LCD Touch Screen, with clear Color Chart to indicate the CO/CO2 Level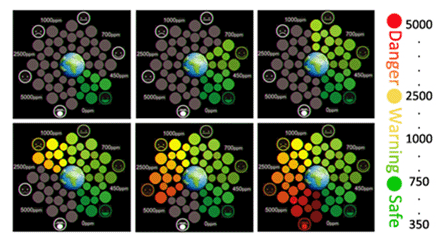 Supports the MQTT Protocol for IoT Applications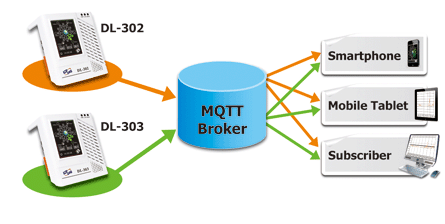 Powerful, Free DL300 Utility Software
The DL300 Utility can be used to configure the modules, monitor real-time data, group DL-300 modules so that the status of distribution groups can be viewed and managed. The utility also allows the log data to be downloaded and exported to a .CSV file that can then be imported into any industry-standard software or spread sheet for analysis.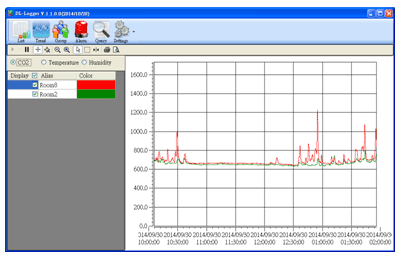 Display Messages in Multiple Languages
The display-message-on-screen function supports multiple language character sets based on UTF-8 encoding. Users can remotely display either pre-configured messages or dynamic messages to prompt an operator with a daily schedule or IAQ device control instructions.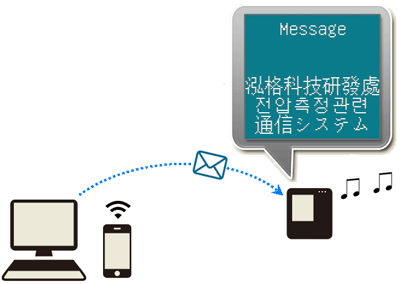 Ordering Information
| | |
| --- | --- |
| DL-301 CR | Remote CO/Temperature/Humidity/Dew Point Data Logger with Safety Alarm (RoHS) |
| DL-302 CR | Remote CO2/Temperature/Humidity/Dew Point Data Logger with Safety Alarm (RoHS) |
| DL-303 CR | Remote CO/CO2/Temperature/Humidity/Dew Point Data Logger with Safety Alarm (RoHS) |