 The M2M-711D module is specially designed for the remote maintenance and upgrading the serial to network application solution. It is suitable for the harsh industrial field. M2M-711D provides 2 major technologies on networking.
1. VxServer mode: The VxServer is a virtual com middleware software. The VxServer with VxComm Driver can create virtual COM ports in Windows and maps them to the serial ports of the M2M-711D devices through the Ethernet / Wi-Fi network. The user's RS-232 client programs need only to change to the virtual COM port to access the serial devices connected to the device servers through the network.
2. Pair-connection mode: It provides TCP data tunneling between 2 serial devices. Therefore, by means of TCP/IP server/client infrastructure, M2M-711D can provide the remote serial data transmission by Ethernet or Wi-Fi (IEEE 802.11b/g) between local and remote sides.
This solution can transfer the site condition of equipment accurately. The maintenance engineer can directly check and diagnose the device/PLC like on-site. This can reduce the huge maintenance cost to increase the competition of enterprises.
Except for the functionality above, M2M-711D can also be support the Pair-Connection of other equipment (M-4131, M2M-720-A, M2M-710D…).
Description
Applications
Application 1 :
Serial application revolution: Upgrade the original serial application to network application
Application 2 :
Remote Maintenance: Establish the remote maintenance system of the equipments sold in the world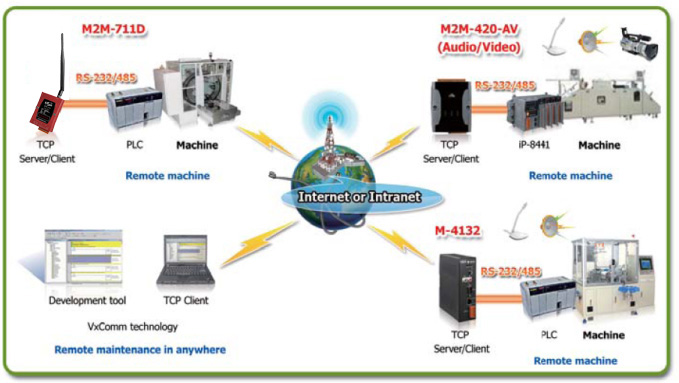 Application 3 :
Pair-connection mode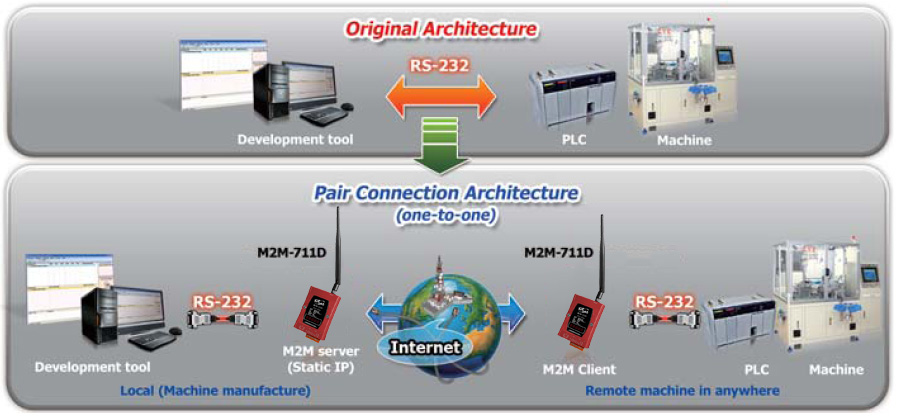 Features
Support VxServer software
Provide pair connection (RS-232,RS-485) on network
Support Server and Client communication mode
Be applied with other M2M products (M2M-420-A, M2M-720-A, M2M-710D…)
Support RS-232 or RS-485 serial communication ports
Built-in self-tuner ASIC chip for RS-485 port
Web-based administration
Built-in MiniOS7 OS to keep off the computer virus
Ethernet Protocol: TCP, UDP, IP, ICMP, ARP, RARP
Supports IEEE 802.11 b/g for Wi-Fi mode
Supports WEP-64,WEP-128, WPA-TKIP and WPA2-AES encryption for AP mode
Supports WEP-64,WEP-128 encryption for Ad Hoc mode
Provide dynamic DNS function
Supply static IP/DHCP (Ad Hoc mode don't support DHCP)
Quick start
5-Digit 7 Segment LED Display
EMI, RoHS compliance
The M2M-711D module built-in web server, the user can operate and set the module easily by web browser.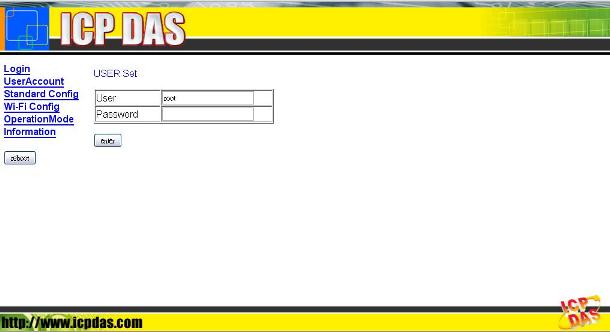 Hardware Specifications
Hardware

CPU

80186, 80 MHz

SRAM

512 KB

Flash Memory

Flash ROM: 512 KB ; Erase unit is one sector (64 KB) ; 100,000 erase/write cycles

EEPROM

16 KB; Data retention: 40 years; 1,000,000 erase/write cycles.

Communication Interface

COM 1

RS-232(RxD, TxD, RTS, CTS, GND); None-isolation

COM2

RS-485(DATA+, DATA-); None-isolation

Ethernet Port

10/100 Base-TX

COM Port Formats

Baud Rate (bps)

1200, 2400, 4800, 9600, 19200, 38400, 57600, 115200

Data bit

7, 8

Stop bit

2 (data bit must be 7 bit) or 1

Parity

None, Even, Odd

Ethernet Interface

Controller

10/100Base-TX Ethernet Controller

Connector

RJ-45 with LED indicator

Services

TCP/IP, Web server

Wireless Network Module(IEEE 802.11b/g)

RF channels

1~13; AP mode supports auto control channel

Receive sensitivity

-87 dBm(IEEE 802.11b) / -72 dBm (IEEE 802.11g)

Data encryption

WPA-TKIP / WPA2-AES / WEP-64 /WEP-128
(It's not supported WPA-TKIP,WPA-AES encryption in Ad Hoc mode)

Transmit Power

12 dBm(IEEE 802.11b) / 14 dBm(IEEE 802.11g)

Antenna

2.4GHz – 5dBi Omni-Directional antenna

Transmission range (LOS)

100M

Mounting

Din Rail Mount

Yes

Wall Mount

Yes

LED Display

5-Digit 7 Segment

Yes

System LED Indicator

Yes

Wi-Fi LED Indicator

Yes

Power

Protection

Power Reverse Polarity Protection

Power supply

Unregulated +10 VDC ~ +30 VDC

Power Consumption

3.6 W for M2M-711D

Mechanism

Flammability

Fire Retardant Materials (UL94-V0 Level)

Dimension ( W x L x H )

123 mm x 72 mm x 33 mm

Environment

Operating Temp.

-25 ~ +75 °C

Storage Temp.

-30 ~ +80 °C
VxServer Software Architecture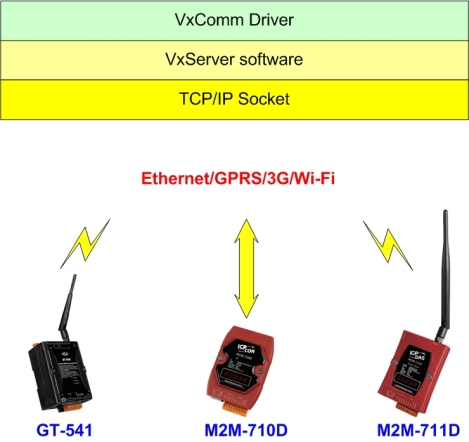 Ordering Informations
| | |
| --- | --- |
| M2M-711D | Remote maintenance Wi-Fi Device Terminal Unit |
Datasheet